In an unpopular decision, railway passenger fare was on Friday increased by 14.2% in all classes while freight charge was hiked by 6.5% with effect from Friday. The decision of the Railways on Friday restores an announcement of May 16, the day Lok Sabha election results came, when the same hike was effected but immediately put on hold.
According to reports, there is no increase in second class suburban fare upto 80 kms which is a relief for Mumbaikars.
LIVE Updates:
Rail fare hike to be effective from Wednesday amidst protest by Congress
Rail fare hike will come into effect starting on Wednesday across the country. The hike has come in the face of protests from several parties and has also drawn sharp reactions from the passengers. While the Congress party launched yet another protest in Pune against the hike, passengers too have reacted to the added burden on their pockets. Read more
Local fares back on track in Mumbai
With elections a few months away in Maharashtra, a clean sweep of 10-0 in the recent Lok Sabha elections in suburban railway-fed Mumbai metropolitan region and the sheer absurdity of having Mumbaikars pay several times more than the rest of India made the railway ministry partially roll back the fare hike late on Tuesday evening. The ministry also announced that the new fares on the suburban system would come into effect from June 28. Read more
Western Railways, Central Railways sales records smashed as fare deadline nears
Monday was a red-letter for both Western and Central Railways as both zones rang up season pass sales that had broken all previous records. While CR, which is the bigger of the two zones, had sold a whopping 95,385 season tickets on Monday (June 23), WR ended up with sales of 96,916. Tuesday promised to be better, with WR racking up sales of 83,458 season passes by 4pm. The kind of crowds at the windows till Tuesday evening meant that both WR and CR could go upwards of 1.2 lakh season tickets each, as per officials. The normal sales for both WR and CR is in the range of 40,000 season tickets. Read more
Read: Railway ministry plans to defer price hike till June 28 for Mumbai: Sources
Bombay High Court refuses to grant interim stay railway fare hike
A division bench of justices Abhay Oka and AS Chandurkar refused to grant interim stay observing that it was a policy decision by the government and that the high court cannot interfere with it. "Considering that it (fare hike) is a policy decision, this court cannot interfere by granting interim relief," observed the judges. Read more
What a Mumbaikar needs to know about the #RailFareHike?
This is a measure being taken to generate a greater revenue in the railway sector, as it is believed to be one of the areas where the government is suffering from major losses. While everyone is talking about the harsh price increases, here is a better understanding for what this means for your Mumbai Local journey. Read more
Train travel to be costlier from tomorrow
Travel by train will be costlier from tomorrow as the hike of 14.2 per cent in passenger fares will come into effect. Besides the steep increase in passenger fares, freight rate for all commodities will also go up by about 6.5 per cent from tomorrow. Cash-strapped railways, which announced the hike on June 20 just three weeks before the presentation of the Rail Budget, expects to mop up Rs 8,000 crore from the move. The hike in the basic fares will apply even to the tickets issued in advance for journeys to commence on or after June 25. According to a senior railway official, those who have purchased tickets earlier at pre-revised rates, will have to pay the differences either at booking offices or in trains. "In the case of tickets already issued at pre-revised rates, the difference in fares and other charges on or after June 25 will be recovered either by TTEs on the trains or by the booking or reservation offices before the commencement of journey by passengers," the official said. Read more
12:50 IST Tuesday, 24 June 2014
10 BJP, Shiv Sena MPs demand roll back in Mumbai suburban rail fare
The Narendra Modi government has come under pressure from its own MPs to reduce the hike in the suburban rail fare in Mumbai with 10 BJP and Shiv Sena MPs meeting Railway Minister Sadananda Gowda today to press for a roll back. BJP MP Kirit Somaiya said Gowda assured them of a "positive" decision on their demand and added an announcement to this effect could be made in a few days. The recent hike in rail fares has led to a steep increase in the prices of monthly passes for Mumbai local trains. They sees the heaviest rush among all suburban rail networks and are a lifeline of Maharashtra capital and India's commercial hub. Read more
Railway minister promised to consider feelings of Mumbaikars: Kirit Somaiya
BJP leader Kirit Somaiya said that Railway minister Sadananda Gowda has promised to consider the problems faced by commuters in Mumbai due to hike in railway fares. "The railway minister has assured us that the feelings of Mumbaikars will be considered," said Somaiya. Read more
Bitter pill is needed because UPA government fumbled all institutions: Nalin Kohli on rail fare hike
BJP leader Nalin Kohli on Tuesday said that the UPA government had fumbled all institutions and therefore a bitter pill was needed in context of hike in railway fares. "UPA left fumbling institutions, and therefore a bitter pill is much needed. Arun Jaitley was right when he said that it was a difficult decision but it was correct because there is need to create better facilities and it can only be done this way," said Kohli. "The Prime Minister is talking about advanced facilities like bullet trains. We have to think of the future.. We want to get the health back of all institutions," he added. Read more
NDA leaders meet Railway minister Sadananda Gowda over rail fare hike
Leaders of the National Democratic Alliance met Railway minister Sadananda Gowda here today. The meeting was held to convey the strong sentiments of commuters in Mumbai and the issues they are facing due to the hike in railway fares. People have been outraged by the government's decision on railway fares. The centre had announced a steep hike in railway passenger and freight fares. Passenger fares have been increased by 14.2%, while freight charges have been increased by 6.5% respectively. Read more
Only overhaul can put railways back on track, warn babus
The railway ministry has saddled commuters with a crippling fare hike aimed at reviving its poor finances, but serving and former railway officials admit that only a major clean-up of the system will improve services. One serving official even warns that the extra revenue that comes in from the fare hike would be nullified within a couple of years if other measures were not taken. The officials focused on services piling up losses, heavy medical bills and uncompetitive manufacturing facilities. Read more
READ dna Special: Central Railway breaks season ticket sales records on Monday
Monday was a red-letter day for Central Railway's (CR) suburban system as the crowds of commuters lining up at ticket windows to insure themselves against the impending railway fare hike ensured that all-time sales records of season tickets were smashed. By the end of the day, CR had sold a whopping 95,385 season tickets whereas the normal average season ticket sale for any day is around 42,000. In fact, so robust were the sales, CR officials pointed out, that just the sale of monthly season tickets at 56,679 crossed this daily average of total season tickets. Read more
Railway freight hike seen inflationary, WPI could surge by 10 bps
Government bond yields surged Monday on account of the government's steep hike of 6.5% in railway freight and volatile crude prices that hit a nine-month high of $115.66 following political tension in Iraq. The 10-year 8.77% government bonds maturing in 2023 rose 8 basis to 8.80% from Friday's close leading to speculation that inflation, interest rates, currency and current account deficit were under adverse pressure. The rupee, however was steady at 60.21 to the dollar. Read more
9:49 IST Tuesday, 24 June 2014
Shiv Sena criticises rail fare hike, but does not demand roll back; hopes this will be final hike
The Shiv Sena has criticised the Bharatiya Janata Party for the railway fare hike, but has stopped short of demanding a rollback saying "the people expect this hike to be the final one". An editorial in "Saamna", the party mouthpiece, said on Monday, "The people felt that since the (Narendra) Modi-led government had come to power, a magic wand would ensure that the fires of inflation will be subdued and they voted the Congress government out on these grounds." But the railway fare hike had led to chaos and given the opposition a stick with which to beat the government. Read more
How will hike in rail fare bring good days: Sriprakash Jaiswal
Taking a dig at Bharatiya Janta Party, senior Congress leader Sriprakash Jaiswal asked the ruling party on Monday, if increase in railway fares and freight charges will bring in the good days promised by them. "Will an increase in railway fare bring down inflation? Will an increase in freight charges, that will in turn increase prices of essential commodities, bring good days?" asked the former Kanpur Member of Parliament. Read more
PILs challenge rail fare hike, demand review authority
The Bombay high court has scheduled for hearing on Tuesday a couple of public interest litigations challenging the steep rail fare hike that will come into force from June 25. The petitions demand relief for commuters and setting up of an independent authority to review the fare. A petition by the Mumbai Grahak Panchayat has stated that the new fares are discriminatory and should be scrapped immediately. It also wants a Railway Fare Authority be set up that will hear all the stakeholders before deciding on the new charges. Read more
21:16 IST Monday, 23 June 2014
BJP, Shiv Sena MPs from Maharashtra to meet Railway minister on fare hike on Tuesday
Apprehensive about an adverse fallout of the hike in train fares in the coming assembly polls, Bharatiya Janata Party (BJP) and Shiv Sena MPs from Maharashtra will meet Railway Minister Sadananda Gowda in Delhi tomorrow to "convey strong sentiments of commuters". "We will convey to the minister the strong sentiments of the 65 lakh rail commuters (of Mumbai) on the fare hike issue," leader of the opposition in the legislative council Vinod Tawde, who would also accompany the MPs, said here. Read more
18:31 IST Monday, 23 June 2014
West Bengal BJP defends rail fare hike
The Bharatiya Janata Party (BJP) state leadership on Monday defended the recent rail fare hike by saying the move taken to bring the Railways out from its poor condition. "It has been nearly a decade that rail fares were not increased. It had to be increased for betterment of the Railways and for the sake of providing world class services to the passengers," state BJP president Rahul Sinha said. Read more
16:45 IST Monday, 23 June 2014
Will the rise in railway fare affect Shiv Sena-BJP alliance in Maharashtra
The move by the Narendra Modi government to increase railway fare is facing a flak from all quarters, especially the BJP's state allies in Maharashtra considering that the state is ready to elections in few months. Read more
15:11 IST Monday, 23 June 2014
Mamata Banerjee demands roll-back of rail fare hike
West Bengal Chief Minister Mamata Banerjee on Monday, demanded roll-back of the "unprecedented, anti-people" rail fare hike considering the problems faced by common people. Making a statement in the Assembly, the Chief Minister said that the decision to hike rail fare and freight rates had created problems for the masses. When a democratic government comes to power, it comes to power on the basis of some promises. What lacks in today's politics is that what the political parties preach before elections, they don't follow that after coming to power, she says. Banerjee said political parties in their manifestos talk about 'Acche Din', but after coming to power decisions were being taken which were anti-people. She said if the political parties had plans to take such harsh decisions, they should tell the masses that they would take such decisions. Read more
Common man has been run over by train: Shiv Sena on rail fare hike
Shiv Sena, an ally of the BJP, today said "common man has been run over by train" with the sudden and steep hike in rail fares. By doing this, the Centre has handed over a tool to the opposition parties, an editorial in today's edition of Shiv Sena mouth piece 'Samana' said. "Railway Minister Sadananda Gowda has in the first instance brought a steep fare hike and has run the train over the common man," the editorial said. Read more
14:18 IST Monday, 23 June 2014
MPCC protests at CST station in Mumbai against rail fare hike
Maharashtra Pradesh Congress Committee (MPCC) today staged a protest at the Chhatrapati Shivaji Terminus station here against the railway fare hike and demanded its rollback. The protest was led by state unit chief Manikrao Thakare. The protestors shouted slogans against the fare hike which they said "will cripple the common man" and demanded its immediate rollback. They also criticised the Narendra Modi government for burdening the common man. The protestors, including Thakare, boarded the 11.04 AM Thane local without tickets as a mark of protest. Read more
11:57 IST Monday, 23 June 2014
Season pass sales hit new highs as fare hike day nears
The sale of season passes on both Western and Central Railway crossed the daily average figures as people flocked to the ticket counters to buy and renew their season passes before the fare hike comes into effect on June 25. Officials said they expect this spike in sales to continue as people will try to save some money at least for a month because the hike is extremely steep this time around. On Western Railway, a total of 42,000 passes were sold on Saturday. This is much more than the daily average of 40,500 passes, said WR officials. In fact on June 21 last year, the number of passes sold stood at 38,000. The money earned from these passes stood at Rs1.85 crores, whereas on the same day last year, the earnings was Rss94 lakhs. Read more
Shiv Sena shows red flag to government's fare hike call
A rift has occurred between the Shiv Sena and the BJP over the rail fare hike. BJP leaders admit in private that the steep jump has changed the pro-saffron mood which had given the Sena-BJP combine a thumping victory in the Lok Sabha polls. A BJP legislator told dna, "Over 75 lakh people travel by local trains daily. By raising the cost of season tickets we have let them down." A senior RSS worker who has been taking up commuters' issues for the past 25 years said: "I hold railway minister Sadanand Gowda responsible for causing damage to BJP's image. If corruption in the railways is reduced by just ten per cent, enough money will be generated and there would be no need for a fare hike." Read more
Brinda Karat calls Arun Jaitley's rail fare hike justification 'laughable'
Communist Party of India Marxist (CPI-M) leader Brinda Karat on Sunday said that Finance Minister Arun Jaitley's rail fare hike justification is 'laughable' and added that the Bharatiya Janata Party (BJP) had never said during their election campaign that they would continue with United Progressive Alliance (UPA) policies. "It is a wrong step when inflation is soaring high. This decision will impact all areas and Arun Jaitley's statement is laughable. During election campaign; they never said they will continue with same policies as UPA. ," she said. "It seems like people have given votes to the BJP to implement UPA's policies. There is no fundamental difference between UPA and NDA's economic policies. Arun Jaitley is repeating what Manmohan Singh has been saying," she added. Read more
Fare hike inevitable for railway's survival: Nitin Gadkari
Amid protests by major opposition parties against steep hike in rail fare and freight rates, Union Minister Nitin Gadkari on Sunday said the decision was "inevitable" for the survival of the railways considering its mounting losses. "The decision to hike fares was mooted during the UPA regime. Railways was on the verge of getting closed due to the mounting losses. In such a situation something had to be done," Gadkari told reporters in Khajuraho during a training session of the newly-elected MPs and MLAs of Madhya Pradesh. Read more
Rail fare hike is in favor of people, says BJP's Shahnawaz Hussain
Bharatiya Janata Party (BJP) leader Shahnawaz Hussain said in Delhi on Sunday that the decision taken by the government to increase rail fare is in favor of the people of India and the step has been taken to fulfill their dreams of a better railway in terms of safety and facility. "As we know that there was no hike in the rail fare from past 12 years that is why there was no improvement in the condition of railway till now. The government knows that people want good, safe and world class railway with all the proper facilities and the government has taken this decision to fulfill these dreams only," said Hussain. Read more
20:33 IST Saturday, 21 June 2014
Congress hits out at Arun Jaitley over remarks defending rail fare hike
Congress today took a dig at Finance Minister Arun Jaitley for saying that the steep hike in railway passenger fares and freight rates was a 'difficult but correct decision". Latching on to a purported tweet by Narendra Modi last year on the issue of railway fare hike in which he is said to have remarked that "issues like price rise don't concern them (Congress)", the party's Communication Department Chairman Ajay Maken questioned the NDA government's stand on the matter now. Read more
20:18 IST Saturday, 21 June 2014
Samajwadi Party, BJP workers clash in Uttar Pradesh over rail fare hike
Violent clash broke out between ruling Samajwadi Party and Bharatiya Janata Party (BJP) workers in front of the Vidhan Bhawan here with both the groups indulging in heavy brick batting over hike in rail fares announced by the Centre. SP workers staged a demonstration in front of Vidhan Bhawan, located opposite BJP office, this evening, torched an effigy of Prime Minister Narendra Modi and shouted slogans. Read more
19:25 IST Saturday, 21 June 2014
HD Deve Gowda flays rail fare hike, questions government hurry
Former Prime Minister and JDS chief HD Deve Gowda today flayed the steep hike in railway fares and freight charges, saying it was contrary to the Lok Sabha election campaign of Prime Minister Narendra Modi to combat the price rise. "In spite of the present Prime Minister fighting Lok Sabha elections on major issues including price rise, the Railway Minister has gone ahead with the announcement of increasing passenger fare hike, which will have many implications," Gowda told reporters. Read more
17:19 IST Saturday, 21 June 2014
Rail fare hike difficult but correct decision, says Arun Jaitley
Defending the steep hike in rail fare and freight rates as a 'difficult but correct decision', Finance Minister Arun Jaitley today said the railways can survive only if users pay for availing of facilities. "The passenger services have been subsidised by the freight traffic. In recent years, even freight fares have come under pressure," he said in his first reaction to the 14.2 per cent increase in passenger fares and 6.5 per cent hike in freight rates. Stating that the choice before the government was to allow the railways to bleed and eventually walk into a debt trap or raise fares, Jaitley said, "India must decide whether it wants a world-class railway or a ramshackled one. "The railway minister has taken a difficult but a correct decision...The Indian Railways for the last few years have been running at a loss. The only way that Railways can survive is when users pay for the facilities that they avail." Read more
14:05 IST Saturday, 21 June 2014
* M Karunanidhi, BJP's Tamil Nadu allies slam railway fare hike
Slamming the rail fare hike, DMK chief M Karunanidhi today said that though BJP government promised to set right the "wrong precedents" of UPA government, its approach was no different from its predecessor's on certain issues. BJP's Tamil Nadu allies, DMDK and MDMK, also sought a rollback of the fare revision. Karunanidhi said the hike came close on the heels of issues like Sri Lankan Navy's continued action against Indian fishermen, New Delhi's 'relationship' with that country's President Mahinda Rajapakase and hike in diesel price, all after the BJP came to power. Read more
12:40 IST Saturday, 21 June 2014
* Commuters are okay with rail fare hike, but want better facilities. Watch video below:
* BJP leaders term rail fare hike a strong and effective measure
Bharatiya Janata Party (BJP) leader Mukhtar Abbas Naqvi and Siddharth Nath Singh defended the rail fare hike, calling it a strong and effective measure to counter Congress' failure. Naqvi told, "Correction of the Congress' failures is the priority," adding, "The challenges the country is facing is an inheritance passed by the people who are protesting against it." He added, "The Modi government was trying to take strong and effective measures. Soon people will realise that measures that are being taken is to rid people of their problems." Meanwhile, BJP leader Siddharth Nath Singh said, "Any government faces two choices, to go for the growth or to give doles in the form of vote bank, the decision taken by PM Narendra Modi's government is to bring India out of the economic mess left by the earlier UPA-II government." Read more
* Rail fare hike an anti-people measure: D Raja
CPI leader D Raja today condemned the central government's decision to hike rail fares and demanded an immediate rollback. Talking about the railway hike, he told, "This is one of the strongest anti-people measures that government has unleashed. It shows the height of hypocrisy of BJP." "BJP claims that it has a strong mandate. Strong mandate does not mean to take strong anti-people measures," he added. Read more
* Protests in Delhi against rail fare hike
Congress and CPI(M) today took to the streets in the national capital protesting the "massive" rail fare hike and demanding its immediate rollback, saying the government's decision will lead to rise in prices of essential commodities. Scores of Congress workers led by party's Delhi unit chief Arvinder Singh Lovely held a demonstration in Janakpuri area of West Delhi and clashed with police. Police had to use water canon when the protesters tried to break barricades. "It is a massive hike. How can they increase the fair just couple of weeks before the Budget Session of Parliament. People who used to talk about 'achche din' (good days) before the elections today are talking about bitter medicines," Lovely said. He said, "BJP had promised to curb inflation before elections but I doubt if it will happen. If they continue to take steps like this, then I am sure people of the country will punish the government. The government is failing at all fronts." Read more
* BSP leader Satish Mishra, BSP condemed the rail fare hike, saying, "This is a huge burden on the common man, 'bure din' are going to come in the future, rollback is needed."
With 14% increase in railway fare, 6.5% rise in freight rates, suburban travel gets dearer
Mumbai, predominantly a season-pass city, is the worst hit by the rail fare hike that comes into effect from June 25. Of the estimated 75 lakh daily suburban commuters, more than 70% travel on season tickets. A Churchgate-Borivli second class season pass would rise from Rs 190 to Rs 480. A first-class pass on the same route would go up from Rs 655 to Rs 1,310. Quarterly, half yearly and yearly season passes would also go up. Tentative fares for the suburban system show that both first and second class card (single journey) ticket fares will increase between Rs 5 to Rs 20 in most cases. The rise in season tickets is substantial. Read more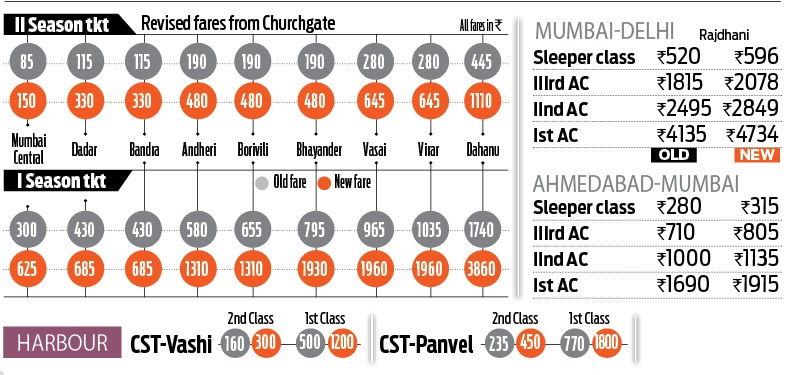 Hike as per Planning commission recommendations
The Narendra Modi government has gone and done what previous governments shied away from: hiking railway passenger and freight rates as per Planning Commission recommendations. This is one of the tough measures that Modi warned the people to be prepared for. Political pundits are surprised that Modi chose to announce the hikes just weeks before the railway and general budgets. Passenger fares have been hiked by 14.2% and freight rates by 6.5% with immediate effect. The railway hopes to increase revenue by at least Rs 8,000 crore with these hikes. Read more
20:19 IST Saturday, 21 June 2014
ALSO READ: Double standards? When Narendra Modi criticised the UPA government for hiking railway rates before budget
Ironically, in 2012 when Narendra Modi was the chief minister of Gujarat the UPA government has similarly increased railway prices. The former Gujarat Chief Minister had written a letter to the then Prime Minister asking him to withdraw the railway hike immediately.
Just before Rail Budget UPA has suddenly increased railway freight rates bypassing Parliament. Wrote to PM against this http://t.co/Dr9s4vob

— Narendra Modi (@narendramodi) March 7, 2012
Left parties slam NDA for rail fare hike, demanded roll back
Condemning the "unprecedented" hike in rail fares and freight charges, Left parties on Friday attacked the Narendra Modi government for pursuing the same policies of the previous United Progressive Alliance (UPA) government and demanded a roll back. "This is a cruel blow to the working people who have been victims of relentless price hikes in the years of Congress misrule. Instead of bringing them some relief as promised in his election campaign, the Modi government has put a huge burden on the mass of people who use the Indian railways," the Communist Party of India-Marxist (CPI(M)) Politburo said in a statement. Read more
NDA government burdening common man by hiking railway fares: Congress
Congress leader Manish Tewari on Friday said that the National Democratic Alliance (NDA) government is burdening the common man by hiking railway fares. "Yesterday, they were talking about common man, and today, they are burdening the same. The irony is that the same people when in opposition would critique the government when any economical decision was taken," said Tewari.Read more
Lalu Prasad Yadav slams Narendra Modi government for rail fare hire, says BJP showed its real character
Former railway minister and Rashtriya Janata Dal (RJD) Chief Lalu Prasad on Friday slammed the Narendra Modi government for announcing "big" hike in rail fare and freight, which he described as the "first salvo on common man". "The BJP befooled people in the general election by promising Achee din...they have fired the first salvo from toop (tank) on common man's chest by announcing big increase in rail fare and freight," Prasad told reporters. Read more