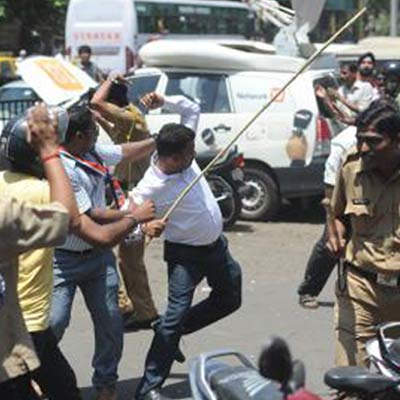 Violent clash broke out between ruling Samajwadi Party and Bharatiya Janata Party (BJP) workers in front of the Vidhan Bhawan here with both the groups indulging in heavy brick batting over hike in rail fares announced by the Centre.
SP workers staged a demonstration in front of Vidhan Bhawan, located opposite BJP office, this evening, torched an effigy of Prime Minister Narendra Modi and shouted slogans.
While BJP workers alleged that SP workers tore down posters and banners, and pelted bricks on the party office, the latter charged that members of the saffron party launched an attack on them and indulged in brick batting.
The minor scuffle turned into a violent clash with both the sides indulging in heavy stone pelting that continued for almost half-an-hour damaging several vehicles.
"Though 3 or 4 policemen were injured in the clash, we have no report of injuries from either side as of now," Station House Officer Hazratganj said.
Meanwhile, BJP workers led by state president Laxmi Kant Bajpai staged a dharna in front of SSP Praveen Kumar's residence, demanding swift action against the attackers.
The Centre had on Friday hiked rail passenger fares by 14.2% and freight fares by 6.5%, in the first tough steps taken by the Narendra Modi government to revive the sluggish economy.