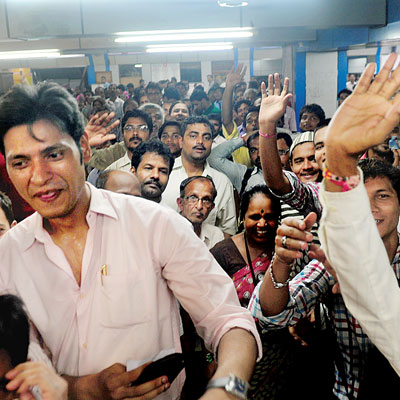 With elections a few months away in Maharashtra, a clean sweep of 10-0 in the recent Lok Sabha elections in suburban railway-fed Mumbai metropolitan region and the sheer absurdity of having Mumbaikars pay several times more than the rest of India made the railway ministry partially roll back the fare hike late on Tuesday evening.
The ministry also announced that the new fares on the suburban system would come into effect from June 28.
A circular sent by the railway board to general managers and other top officials in Mumbai said that second class suburban season tickets should be charged at 14.2% and rounded off as per instructions currently on in Mumbai's suburban system. All fares on Mumbai's suburban system are rounded to the nearest round digit divisible by five.
Another sweetener that the Narendra Modi government put out for Mumbaikars was an announcement that there would no increase for the first 80km of suburban travel on a second class ticket.
Point four in the circular issued by the ministry — that all terms and conditions of the previous fare hike circular remained the same — would mean that a first class season pass would be calculated at 'four times' the second class season pass (calculated for a hike of 14.2%). It also means that Half Yearly Season (HST) and Yearly Season tickets (HST) would be computed as per prevailing rules.
But what is certain is that all fares, be it first class or second, would come down considerably. In fact, preliminary calculations by Central Railway officials showed that for a distance of anything between 36 and 40km, the roll-back would mean a first class pass would cost Rs725 instead of the earlier Rs1,200. A Rs300 second class pass would now be in the range of Rs185.
Similarly, for 60km, the roll-back would mean a second class season pass would cost Rs270 instead of the earlier Rs450 and a first class pass would cost Rs1,035 instead of Rs1,800.
While the railway ministry handed over the bragging rights to the BJP-Sena and its entourage of leaders that met railway minister Sadanand Gowda on Tuesday, the timing of the announcement raised eyebrows.
"With the sales of season tickets creating new records since Saturday, especially that of yearly (YST) and half yearly season tickets (HST), seeing a rise of several thousand per cent, the ministry possibly waited till the last moment to call it off," said an official. In fact, on Monday both WR and CR created new sales records with WR selling 96,916 season tickets worth Rs12 crore and CR selling 95,385 season tickets worth Rs7.08 crore. On WR by Tuesday afternoon the sales figure had reached a whopping 83,458 with officials confident that it would cross the 1 lakh figure by midnight.
The action on the roll-back started on Tuesday, hours before the deadline was to come into effect. A delegation of the saffron alliance, which included MPs Gopal Shetty, Poonam Mahajan, Kirit Somaiya, Arvind Sawant and Rahul Shewale, the state BJP's general secretary Vinod Tawde and city BJP chief Ashish Shelar, called on railway minister Sadanand Gowda at Rail Bhavan in the capital and appealed to him to roll back the hike.
"We made it clear to Gowda that the hike was very steep and unjustified. Over 75 lakh suburban rail commuters will be affected by it," Sawant told dna after the hour-long meeting.
Mumbai's BJP chief said that the railway minister gave them a patient hearing. "Gowda told us that we had made a strong case for a roll-back on humanitarian grounds. He asked the railway board chairman Arunendra Kumar, who was present at the meeting, to consider our demand and assured us that there will be some good news in the next few days," said Shelar. BJP MP (Mumbai North) Kirit Somaiya said: "We have convinced Gowda about our demand. The steep increase in fares was an error."