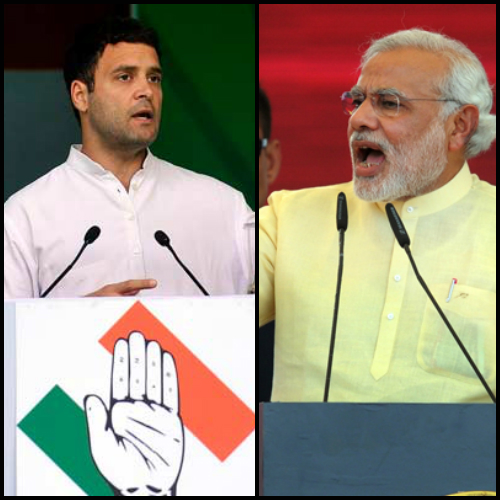 'Every election is determined by the people who show up'— Larry J
The dormant Indian government is on the verge of a major overhaul with a brand new government and new prime minister on anvil as the Lok Sabha election results are here. While the nine phased elections spread over 36 days in 543 constituencies took place with disruptions in the form of maoist attacks, war of words between candidates and Election Commission and finally advent of social media technology into the elections. Trends have been mapped and some intriguing instances have been witnessed during the tenure of Lok sabha elections.
Here, we compile some interesting incidents, shocking events and some disgraceful patterns as well:
#1 Slapfest and violence: Violence and elections have become synonymous in various countries including India. With table-throwing matches, usage of pepper spray and weapons inside the parliament, we could not expect anything better. To stand true to that, violence hit its peak during these elections as Aam Aadmi party leader Arvind Kejriwal was attacked and slapped on numerous instances. An autorickshaw driver slapped Arvind Kejriwal in Delhi during a campaigning event. Ink and eggs were thrown at him in Varanasi and a man had punched him in Delhi prior to this but Kejriwal refused to take security cover whatsoever.
The rickshaw driver sought apology from Kejriwal finally. But, this does not give any sense of security in preventing unwarranted poll violence which needs to be curbed down.
Read: BJP condemns attack on Arvind Kejriwal, sceptical about its recurrence
#2 Challenge authority of Election Commission: While the Election Commission sought to conduct elections in a free-and-fair manner, many leaders thought otherwise and challenged the body's authority. While BJP's Narendra Modi, the front-runner to hold the Prime Ministerial office attacked EC for its refusal to allow him to hold campaign rallies in Varanasi, Samajwadi party's Azam Khan challenged the authority of the body. He said that the body was not akin to god and he wasn't afraid of its decisions.
CEC VS Sampath and his aides had to come forward and clear air about events and EC's decision on various speeches and decisions including refusal to allow Modi's rally.
The battle has intensified further between various leader and EC over hate-speech and derogatory remarks against different communities and it is critical that the leaders toe the line and follow its mandate.
#3 The battle of ideologies: According to Congress vice-president Rahul Gandhi, India is facing an ideological war. The war is between two diverse and different ideologies—Communalism versus secularism. Gandhi is seen in many television interviews talking about this so-called war. He even says that he will give up his life for this war. The main target in all these conversations is Narendra Modi who has been attacked constantly for his involvement in 2002 Gujarat riots.
Read: 10 things Rahul Gandhi said in his latest television interview
#4 The case of missing names from voters list: As the different phases took place, complaints about missing names from voters list surfaced and gained credence from the Election Commission as well. It seems in all probability that a nexus is at work to bring back dead people to life/kill people off/remove them from list/make them illegal in electoral rolls. Bollywood director Amul Palekar raised a hue-and-cry about the same in an opinion piece for dna.
Over a complaint filed with the Bombay High Court, the bench had said that the Lok Sabha polls were conducted in the state according to due procedure and it has refused to give any relief in the matter of voters whose names were deleted from the electoral roles.
The court asked the citizens to register themselves by filling form 6 and submitting the necessary documents and it directed the commission to decide on such applications preferably within 30 days. Read: Why can't I vote from the same booth where I voted for the BMC polls
#5 Family to the rescue: From roadshows to rallies, Rahul Gandhi tried all the bookish tricks to woo voters. But when Congress faced defeat in Assembly polls, the message was written on the wall. Sonia Gandhi conducted some rallies targetting Narendra Modi but majority of the were cancelled owing to her health issues and Priyanka Gandhi Vadra took the responsibility to campaign for her brother at Amethi. The entire 'Satta Bazaar' or the so-called bookie markets have been putting their money on Narendra Modi for the PM 's post. But, Priyanka comes a close second on this list.
#6 Well-planned rise of Narendra Modi- From using social media experts and technocrats to using a strong poll-pitch and rhetoric, Narendra Modi has upped the election game and how. While Modi brought in 'Chai pe charcha', 'visual holograms' etc and re-defined campaign style, opposition could not even farthom the level of challenges being thrown at them. While some dismissed these as fancy toys, the poll predictions have definitely made them reconsider their opinions in the long run.
#7 Its all about extremism- While we all understand the importance of 'free speech' in a democratic set-up, we fail to understand the basic line between using and abusing our powers. That's exactly the same dilemma that our politicians face while making crony statements and attacking each other at rallies and other political events. Narendra Modi has been attacked by Mamata Banerjee with the 'Donkey' statement and by Congress leaders too. While comments by Abu Azmi such as, 'If you don't vote for SP, you are not a true muslim' and 'Only muslim soldiers fought the Kargil war' by Azam Khan have stirred the hornets nest and drawn Election Commission's ire, nothing much has changed about the way elections are fought in India.
#8 FingerSelfies are a rage- These elections saw social media gaining credence and had people going gaga over inked fingers. As soon as voters finished inking their fingers and selecting leaders to fulfill their mandates, they would post a picture of the selfie (inked fingers). Even BJP's Prime Ministerial candidate Narendra Modi got into a tussle with Election commission after posting his 'Inked selfie' and a lotus memento.
#9 Are Exit polls a big sham?- Whatever the results of Lok sabha elections are, Exit polls surely created a lot of buzz and anticipation. While Exit Polls gave out reassuring numbers for BJP with 250+ seats, Congress has been shown the door by most of them including Times Now, CNN-IBN, CVoters survey and so on. But their validity can only be verified once the poll results come out. During 2004, Exit polls suggested victory for NDA which turned out to be completely wrong.
#10 Pakistan is integral in Indian elections and here's how: While communalism was used extensively for dividing communities, even tensions with our neighbouring country were brought to the forefront during these elections.
Giriraj Singh, a BJP leader from Bihar had told an election rally in Jharkhand: "Those who want to stop Narendra Modi from becoming prime minister will have no place in India in the coming days. They will only have place in Pakistan."
Giriraj had made the remarks in presence of former BJP president Nitin Gadkari, who himself stirred a row by telling reporters in Patna that casteism was embedded in Bihar's DNA. Later, he said he meant Bihar's politics, not Bihar.
Besides these, Modi's comments on Dawood Ibrahim also drew criticism from Pakistan. Pakistan called Narendra Modi 'irresponsible, shameful' for call to attack Islamabad to bring back Dawood.
Other points that need to be mentioned: Our leaders and their tweeting habits, ample usage of social media including blogs and strategic usage of media to garner primetime news spots.