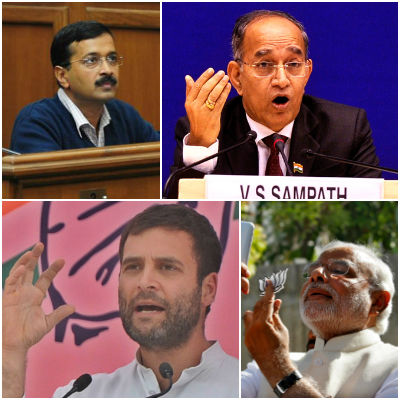 The 15th Lok Sabha election has been in the news for the several run-ins that leading politicians have had with the Election Commission (EC). With the fresh notice sent to the Aam Aadmi Party's (AAP) chief Arvind Kejriwal for his remarks against the Bharatiya Janata Party (BJP) and the Congress made in Amethi, it seems politicians will never tire of getting into trouble with the EC.
The election season will also be remembered for the press conference by the EC after being accused of being biased by top BJP leaders including Narendra Modi.
On 8 May, Thursday, in the press meeting, the Election Commission came out strongly against the allegations of partiality. Chief Election Commissioner V Sampath himself defended the charges, saying "The Commission is not afraid of anyone, any political party or any entity in discharging its duties it has always been discharging in a very forthright manner. There is no question of any bias."
The EC also defended its decision to disallow permission to Narendra Modi's rally, saying it had taken into consideration the profile of the candidate and came up with the decision as a body and not as individuals.
The Election Commission's job has been made further difficult with top politicians from all parties seemingly competing to violate the moral code of conduct.
The Samajwadi Party's (SP) Abu Azmi, and the BJP's Amit Shah found themselves early on with a tiff with the EC. The AAP's candidate from Varanasi, Arvind Kejriwal had earlier not once but twice angered the EC.
Not to be left behind, the BJP's Narendra Modi was sent a notice by the Election Commission for violating norms. Rahul Gandhi's earlier speeches and his recent alleged visit to a polling booth got him attention from the EC. There have also been several instances and allegations of booth capturing and voter intimidation and violence.
Election Commissioner HS Brahma even agreed that the election this year has been the worst in the recent history as far as violations of the model code of conduct, vitiation of atmosphere and use of hate speeches and money power is concerned.
The CEC had on May 8 assured that the EC had done its best to conduct a fair election. However, it seems that for all the strong positioning before the media, the Election Commission lets code of conduct violators get away with a written apology and an assurance that such violation will not be repeated. The laws made by the code-violating parliamentarians have made sure the EC remains toothless against them.
The time has come to have stringent laws to prevent such behaviour by the erring politicians. But will the legislators let it happen? this is the question left to be pondered over.