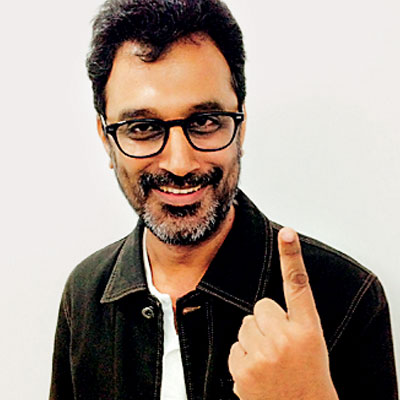 I'm angry... I visited the polling booth twice and still haven't been able to vote. After spending two hours and 18 minutes the second time, I had to give up, resigned to being among the dubious lot pulling down the total vote percentage.
The missus and I decided to go early around 7.30am, since there wouldn't be a crowd. Given the fact that we have such colourful characters like Rakhi Sawant and Mahesh Manjrekar in the reckoning we were really spoilt for choice. And sure enough there were only about 10 people in a queue. Since we hadn't received any parchas delivered at home, we went with out voter IDs. When my wife showed her ID, as soon as her name was found, I eagerly thrust mine forward saying my name will be there. "Tumcha naav nahiye (Your name's not there)," said the official.
When I insisted he must look properly he just turned the list to face me and said, "Bagha tumhich (See for yourself)."
Though the wife had finished voting, I was still persuading the officials to look me up in the ASD (Absent, Shifted, Dead) list. When that too drew a blank I was given a url written on piece of paper and told to check with my voter ID on the internet. "Sometimes some names get shifted to neighbouring polling centres."
Luckily the polling booth is across my building gate. At home, on the laptop I have rarely been so eager for the internet to kick in. When I typed out my ID on the suggested website, my polling booth was shown to be in New Panvel which is about 45kms away in Raigad district and had already voted in the earlier phase. Since neither me nor anyone from my extended family have ever lived there I wondered how this had happened.
The wife told me to forget about it and brought me some chai with the morning newspapers. The huge ads in every one of them asking me to vote, wasn't helping, as wasn't the #fingie (Finger selfie) being posted on Facebook by everyone I knew.
I went back to the polling booth and explained them what I had found out. I thought they could call someone and let me vote but the officer-in-charge simply said,"Amhi kaahi karu shakat nai (We can't do anything!).
So here I was, two decades a journalist, with the Election Commission (EC) giving me the electoral equivalent of the babaji ka thullu. All because I wanted to exercise my fundamental right to vote. This is the same EC which keeps putting out hourly updates on voting percentage. Perhaps they should work on letting people who come vote.
Of course I've been asked why I didn't check the list four weeks ago. Yes, the people who pose that question have a point— as a conscientious citizen maybe I should have. Only I don't get two things. One: Why can't I vote from the same booth where I voted for the BMC elections in 2012? And if the officials hadn't found the missus or me at home when they reportedly came to check, how is her name there and mine not?