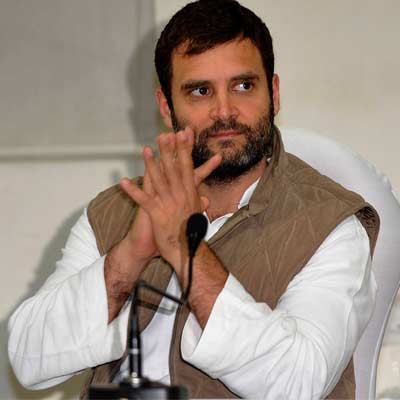 In an exclusive interview to a television channel, Congress Vice-President Rahul Gandhi on Tuesday attacked Bharatiya Janata Party's Prime Miniterial nominee Narendra Modi for giving land to Adani Group in Gujarat at throwaway prices. He had targeted Modi in an earlier interview with Aaj Tak calling it the war of ideologies.
Rahul Gandhi who is contesting from home-turf in Amethi Lok Sabha seat also took a dig at Narendra Modi over his chowkidar remark.
He said that Modi wants to become the nation's chowkidar, while Congress wants to make the nation's population their own chowkidar in the interview which was a reiteration of his earlier stands.
During his election interview with ETV, Rahul talked about a number of issues ranging from employment to women empowerment.
*Ideologies: For Rahul Gandhi, this election is a war of ideologies. He believes in progress which includes every person of the country. He wants the country to progress with harmony and brotherhood.
*Achievements of the UPA government: According to the Gandhi scion, UPA government has managed to bring out 15 crore people from the Below Poverty Line (BPL)which is a huge achievement for Congress led alliance. They also gave rights to people such as Right to Food, Right to Education, Right to Employment etc.
*Finanacial progress: There was an accelerated financial progress during UPA's term when compared with NDA term in the country.
To fight corrution: Rahul Gandhi mentioned ways to fight corruption, that they will put in action if UPA-3 govenment is formed. He mentioned decentralisation of power and empowering citizen further through Panchayati Raj system.
*Price Rise: To counter price rise, Rahul Gandhi mentions how UPA-2 govenrnment dealt with with fuel price hike and how they are creating infrastructure for farmers to store food and process it.
*The 3 points of Rahul Gandhi's vision:
They have generated jobs and are still doing so as they have started big projects to provide power, water, road and railway in big cities. This will ensure employment opportunities for many.
Giving free medicines and opesration facilties to the poor.
Bringing the female population of the country to the forefront by giving them opportunities and a place to create their own identity.
Some T-20 steps taken by UPA:
They forgave 70000 crore debt
They gave position to youth in the youth wing of Congress which led to increased participation.
*Sanskaars: Rahul gandhi also spoke about his upbringing since he does not speak negative for any person. Respecting every person was what was taught to him along with Working for his country and it's progress.
*Willingness to become the next PM: "If the menmbers of parliament ask me to become the Prime Minister, in that case i will 103% become the Prime Minister. But whichever government comes in, it will be a radical government."
* What does this election mean for Rahul Gandhi?
According to Rahul Gandhi, election is never a race for any post. It is more about trying to solve the problems that young India faces. What further angers the young leader is the fact that India even after having so much potential is not able to exploit it to for growth and development. But improvements can always be made.