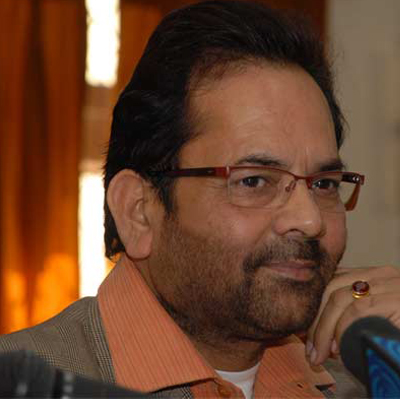 BJP today struck a cautious note in condemning the slapping of AAP leader Arvind Kejriwal expressing scepticism on whether those attacking him were moving along with him.
"I don't understand why it is happening with him. Such a thing is not justified. It is wrong. Such a thing is not accepted in a democracy," BJP vice president Mukhtar Abbas Naqvi said.
Naqvi, however, remained sceptical about repeated attacks on Kejriwal, and asked if those people who slap, punch and throw ink move along with the AAP chief, who blames his political opponents for the incidents.
"If it has actually happened from somewhere else, then it is condemnable," he said.
Kejriwal was today slapped by a man during a roadshow in Sultanpuri area of North West Delhi in second such attack in last four days and the AAP leader immediately held BJP responsible for it.
The man identified as Lali, who is an autorickshaw driver, first garlanded Kejriwal and then slapped him following which the attacker was thrashed by AAP supporters.
The 38-year-old attacker, a resident of Aman Vihar in Outer Delhi, has accused Kejriwal of not fulfilling promises made to the auto-drivers. He was later detained by the police.
"I do not understand why do some people resort to violence for becoming the Prime Minister. If you think by attacking us, we will keep quite then you are wrong. We will fight this battle till the last breath," Kejriwal said.
Later in a tweet, Kejriwal said, "I am just thinking - why am I being repeatedly attacked? Who r (are) the masterminds? What do they want? What do they achieve?"