Pakistani journalist Hamid Mir was heading to his office when his car was targeted by gunmen on Saturday.
He was shot three times and was rushed to a private hospital where he underwent an operation. Doctors successfully removed three bullets through surgery.
Dr. Aamir Liaquat Hussain who conducted the operation spoke to the news channel Geo news about the success of the operation.
Good news: @HamidMirGEO is well and safe. Will be shifted to the ward soon.

— Mansoor Ali Khan (@MansoorGeoNews) April 19, 2014
Senior journalist Amir Mir said that his brother had notified him in advance about the attacks. He had also blamed some ISI officials and the intelligence agencies chief Lt. General Zaheerul Islam in case if he would be attacked.
Read: No FIR registered yet in attack on senior Pakistani journalist Hamid Mir
The ISPR condemned the attack and prayed for Hamid Mir's well being.
Gunmen in a car and riding two motorcycles opened fire on Hamid Mir's car a few kilometers away from the Airport police station.
Karachi police chief, Shahid Hayat told Geo news that Hamid Mir had been shot thrice; one bullet has pierced his intestine while the other two have wounded his leg and pelvic area. Hayat added that a committee had been formed to probe the attack on Hamid Mir.
Just a couple of days ago, @HamidMirGEO was telling us about the video message he has recorded declaring the culprits in case....

— Umar Cheema (@UmarCheema1) April 19, 2014
The attack has been condemned by politicians including Prime Minister Nawaz Sharif. Following the attack journalists held protests in several cities of the country and called for an inquiry.
In November 2012, explosives were found under the vehicle of Mir in Islamabad when he had gone for some work with his driver and parked his car for a little.
The bomb disposal squad was immediately called in to remove the bag after which it was revealed that the bag contained half kilograms of explosive material that was diffused by the squad.
Read: Surgery commences to save ambushed Pakistani journalist Hamid Mir; Twitter users condemn attack
Meanwhile Pakistan PM Nawaz Sharif decides to form a three member panel to investigate the incident:
Pakistan Prime Minister Nawaz Sharif today decided to form a three-member judicial commission to inquire into the attempt on the life of leading TV journalist Hamid Mir and also announced a reward of Rs 10 million for information leading to the arrest of the culprits.
A formal request will be made to the Supreme Court Chief Justice to nominate three members of the commission, a statement released by the Prime Minister's Office said.
Mir, 47, who faced threats from multiple quarters here including the Pakistani Taliban, was yesterday shot at in Karachi by four unidentified gunmen.
He sustained three bullet injuries in his leg and pelvic area after he was fired upon near Natha Khan bridge soon after he left Karachi airport for his office. He was rushed to hospital where he was operated upon for over three hours.
A message by #TeamGeo for @HamidMirGEO pic.twitter.com/GmC56k7zHe

— Mansoor Ali Khan (@MansoorGeoNews) April 19, 2014
The government has offered a reward of Rs 10 million for any information that leads to the arrest of the attackers.
Information Minister Pervaiz Rashid, who visited Mir in the hospital, said the government is working to strengthen the democratic culture in the country.
He said the responsibility of investigations into the attack on Mir lies on the Sindh government.
However, he said that the federal government will extend full cooperation to the provincial government for the same.
Mir's brother has accused "elements in the ISI" of orchestrating the attack on him, a charge denied by the military.
Read: Pakistani journalist Hamid Mir shot in ambush incident
Can Pakistani journalists unite after attacks against them? Boycott coverage of all those that attack them for speaking the truth. #HamidMir

— Rafia Zakaria (@rafiazakaria) April 19, 2014
Meanwhile, Center for Protection of Journalists has been taking up issues of Journalists being attacked. They have complied a list.
Babar was an unusual face on the air in Karachi: Popular and handsome, he was a Pashtun from Baluchistan. He was also a rising star at Geo TV, which was grooming him to be an anchor. His murder provides an unfortunate prism through which to study the state of media, justice, power, and politics in Pakistan.
Officially, there is no mystery to Mukarram Khan Aatif's death. He is another casualty of the war on terror, executed by the Taliban because of his reporting for a U.S. government-backed news outlet. But unofficially, many do not believe Aatif was killed on orders of the Taliban, at least not for the reasons publicly stated..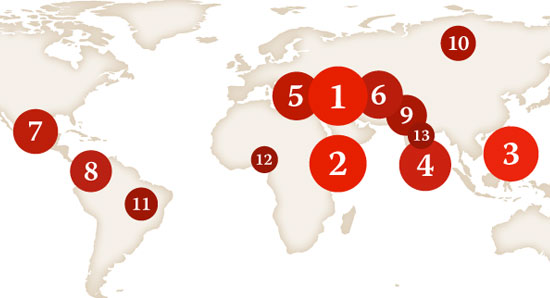 Credit: Center for protection of Journalists
Iraq tops the list for Journalists being attacked. Somalia and Phillipines follow closely. Pakistan comes in at 9th spot while India comes at 13th spot. Read the full report:Getting Away With Murder
Conclusion by CPJ:
The murder of Saleem Shahzad in May 2011 galvanized journalists across Pakistan in a way that few other events have. For a short time their power was felt. They secured a high-level investigation. They named intelligence officers who had threatened Shahzad and other journalists. But two years later, precious little has come of their efforts.
With inputs from agencies