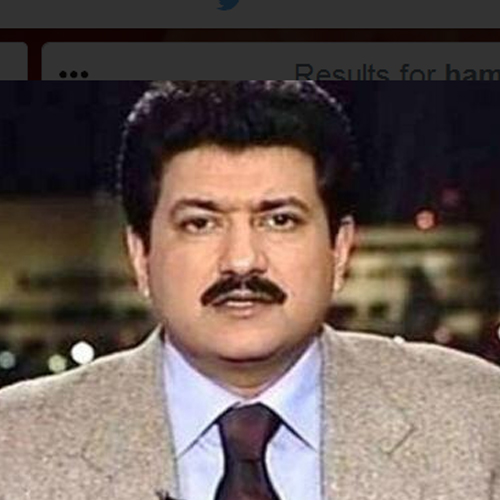 Pakistani journalist who was chased down for 20 minutes and attacked by unknown assailants was admitted to hospital and surgery for the same is underway to remove two bullets.
Hamid Mir, a senior journalist with Geo News was crusading for Baloch missing person's cause and twitter users are reacting strongly to the incident.
According to reports, unknown armed men ambushed Mir's vehicle at Natha Khan bridge. He received bullet injuries and was shifted to a private hospital.
CT scan reveals 3 bullets have hit @HamidMirGEO

— Mansoor Ali Khan (@MansoorGeoNews) April 19, 2014
Geo News Islamabad bureau chief, Rana Jawad said Hamid Mir spoke to him after being attacked and said that the gunmen were following him and continue to fire at the car.
Geo News reporter Afzal Nadeem Dogar said Hamid Mir was traveling from Karachi airport to the Geo office when he was attacked.
Four gunmen riding two motorcycles opened fire on Hamid Mir's car a few kilometers away from the Airport police station.
Hamid was attacked prior to this in 2013 too but had escaped unscathed.
As the movement for safeguarding freedom of speech grows stronger, many journalists have been attacked all over the world.
When Afghanistan elections were underway, AP photojournalist Anja Niedringhaus was gunned down while covering the Afghan elections. Anja Niedringhaus was killed in an attack in Afghanistan, while covering the country's 2014 presidential elections. Fellow AP journalist, Kathy Gannon, a 60 year old Canadian, was seriously injured in the attack, and underwent emergency surgery and her condition was said to be stable.
Read: Associated Press pays tribute to photojournalist Anja Niedringhaus who died while covering Afghan elections
Below are twitter reactions from public who were shocked at the incident:
@HamidMirGEO surgery for taking out the bullets has just started. All prayers for him #TeamGeo

— Mansoor Ali Khan (@MansoorGeoNews) April 19, 2014
Dr. Rizwan is treating @HamidMirGEO right now in the OT

— Mansoor Ali Khan (@MansoorGeoNews) April 19, 2014
#HamidMir was raising voice for the Baloch missing persons, He speak loud and today tried to be silenced. pic.twitter.com/Q5Bh0Bie9g

— Raza Dotani (@rdotani) April 19, 2014
I personally do not like Hamid Mir As anchor have clashes with him on few points but such disgraceful act is not accepted not at all

— Farwa (@FarwoKazmi) April 19, 2014
Attack on Hamid Mir is a cowardice act, Journalist perform their duty as public eye, Pakistan must have tolerant society NOW.

— Prince Shahryar Rana (@shahryar_rana) April 19, 2014
What a shamefull society v r livin in. Diff of opinion is everybody's right but attacking a journalist is utter nonsense.. GWS @HamidMirGeo

— Umair Javaid (@Spartan_Rana) April 19, 2014
Journalists' protest outside #Karachi Press Club at today 7pm, against attack on @HamidMirGEO ,

— Bilal Zafar Solangi (@bilalzafar_) April 19, 2014
Journalists' protest outside #Karachi Press Club at today 7pm, against attack on @HamidMirGEO ,

— Bilal Zafar Solangi (@bilalzafar_) April 19, 2014
Following is serious... but 20 min? RT @akchishti: @HamidMirGEO assasins followed his car for good 20 mins without police stopping them.

— Adil Ansari (@AnsariAdil) April 19, 2014
"@HamidMirGEO is a courageous most journalist; but hats off to the driver, his bravery, intelligence and smartness.."

— Urooj Raza (@Uroojsayyami) April 19, 2014
Terrorist attack on conspicuous journalist Hamid Mir. He is in critical condition. May ALLAH grant him health. #Cowardattack

— Chaudhry Waqar (@ChaudhryWaqar22) April 19, 2014
"@bilalpunnu: @HamidMirGEO ,... two bullets hits. May this braveheart recover fast from cowardly attack."

— Mudassar Amin (@MudassarAmin76) April 19, 2014
For US friends, who exactly is @HamidMirGEO? Fellow journo once said "He's the Larry King of Pakistan, the whole country watches his show"

— Muhammad Lila (@MuhammadLila) April 19, 2014
whole world is praying for Hamid Mir's recovery, bt Indian right wing had anothr chance to mock the two nation theory, quick to blame Jinnah

— Mustafa Hassan (@drvetmhj) April 19, 2014
If you've raised voice 4 the #BalochMissingPersons as #HamidMir did. Then may be you're next target of unknown gunmen or Pakistani agencies.

— #VBMPLongMarch (@HakeemWadhela) April 19, 2014
Shocked & saddened by attack on Hamid Mir in Karachi.Strongly condemn growing threats/attacks on journalists. Govt must ensure their safety

— Bilal Chishti (@MBilalChishti) April 19, 2014
U attackers of @HamidMirGEO ... U can't block the voice of freedom. Mind it. #GetWellSoonHamidMir.

— Imtiaz Shaikh (@Imtiaz_Shaikh03) April 19, 2014
What a country Pakistan is? No person is secured even journalist like Hamid Mir

— Ekram ul Haque (@ekram671) April 19, 2014
Very shocking news,strongly condemn attack on journalist @HamidMirGEO #Media is under threat in #Pakistan

— Nazia Javed (@Naziajaved10) April 19, 2014
v sad day of journalism attack on @HamidMirGEO is attack of freedom of press and media/thought,he is in #ICU need prayrs.

— Sikander Baloch (@SikanderBalouch) April 19, 2014