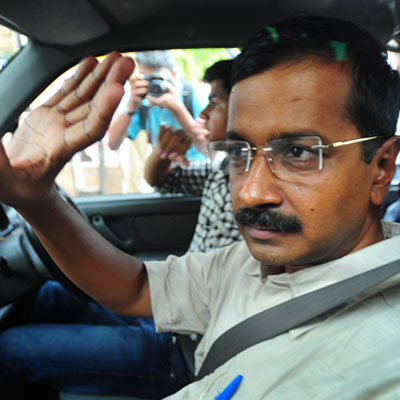 Aam Aadmi Party's leader Arvind Kejriwal was arrested on May 21. He was sent to judicial custody when he refused to submit a bail amount of Rs 10,000 in the case filed by BJP leader Nitin Gadkari in February.
Read: Arvind Kejriwal apologises to Delhi; sent to Tihar in defamation case
He was taken to Tihar jail. While Congress termed Kejriwals act, a drama, there was a lot of chaos outside where supporters and colleagues gathered in protest. Clashes broke out between AAP supporters and Delhi Police. Around 70-80 workers including MLAs and other senior leaders were arrested from outside Tihar jail. Police had to imposed section 144 outside the jail premises. Senior leaders like Yogendra Yadav, Manish Sisodia were dragged by the police personnel. Yogendra Yadav spent night in Jail for peacefully protesting against the arrest of Arvind Kejriwal.
Read: Arvind Kejriwal languishes in Tihar jail, BJP and Congress term it drama while section 144 imposed
At the same time AAP supporters showed their support over social media websites like Twitter."IStandWithKejriwal" has been trending all over Twitter as Kejriwal continues to be in jail.
Yogendra Yadav yesterday whole night this way in Solidarity with Arvind. #IStandWithKejriwal pic.twitter.com/u73zrkEMus

— arshi yasin (@arshi_yasin) May 22, 2014
RT @prerna2107 History reapeated again. revolution starting again in #india #IStandWithKejriwal pic.twitter.com/CzHhlAamP0

— Mahendra IND (@msrbpl) May 22, 2014
OMG! @narendramodi started arresting everyone! https://t.co/bSL5vlF23f #ArvindJailed #IStandWithKejriwal #AcheDinMyFoot

— Shrabani (@shrabanijoarder) May 22, 2014
I bet, every second Indian has once said "Sab Ke Sab Choor Hai!". Dear Law and Dear Order, arrest us! #IStandWithKejriwal

— Rachit Doshi (@RachitDoshiYo) May 22, 2014
RT @OnlineExpertLiv: There are very few people left who has the guts to say wrong a wrong. #IStandWithKejriwal"

— Kumar Shashwat (@kumarshashwat97) May 22, 2014
"@tapasvi8: Looters corrupt united to finish this revolution, but he is fighting alone. For whom??For me/My future... #IStandWithKejriwal""

— Development Tracker (@rajatbhushan20) May 22, 2014
.@yash_allin1 Arvind has apologized, didn't he? Have Lalu Prasad Yadav, Narendra Modi or Suresh Kalmandi ever apologized?#IStandWithKejriwal

— AtheistClub (@Atheist_Club) May 22, 2014
hey bhagwan yeh kya anyay hei ..yug purush ji ke jail jate hi earthquack aa gaya #ArvindJailed #IStandWithKejriwal

— bikash paikray (@bikashliju) May 22, 2014
I feel Kejriwal is in jail just to save my present & future from corruption that's y #istandWithKejriwal

— Naren Sharma (@TheNarenSharma) May 22, 2014