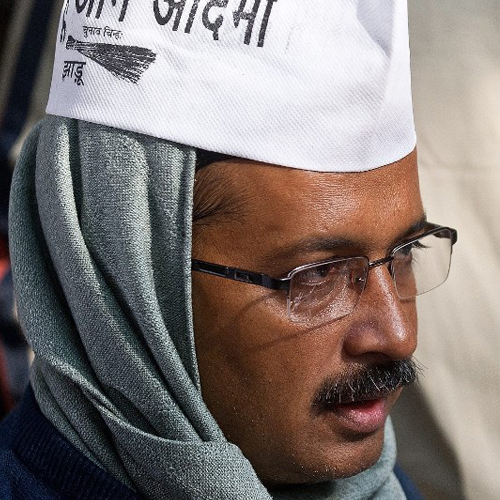 Aam Aadmi Party chief Arvind Kejriwal's arrest in connection with the defamation suite filed by BJP leader Nitin Gadkari was followed by high voltage drama at Tihar Jail where the former Delhi CM is lodged for two days.
Police have also imposed section 144 outside the jail premises. Senior leaders like Yogendra Yadav, Manish Sisodia were dragged by the police personnel.
According to reports, chaotic scenes were witnessed outside the Tihar jail on Wednesday evening when clashes broke out between AAP supporters and Delhi Police.
Around 70-80 workers including MLAs and other senior leaders were arrested from outside Tihar jail.
Kejriwal was sent to judicial custody when he refused to submit a bail amount of Rs 10,000 in the case filed by Gadkari in February.
As Kejriwal languished inside the jail, protests continued outside the jail premises. Delhi Police cordoned-off the area which was criticised by AAP leaders.
"We were merely expressing our solidarity with Kejriwal. We were not causing any obstruction to the traffic or the security of Tihar," party leader Yogendra Yadav said.
Another AAP leader Manish Sisodia echoed the views of Yogendra Yadav saying, "We are sitting on the foothpath and protesting and that is not wrong."
"The AAP totally disagrees with the decision of the learned Metropolitan Magistrate to send Kejriwal to judicial custody. There is no provision in law which makes it mandatory for a defendant against whom a complaint is filed in a defamation case to furnish a bail bond, particularly when he is ready and willing to be present in the court on the fixed date of hearing," the party said in a statement.
The party said that there were at least four cases in which courts have accepted undertakings given by Kejriwal which were of similar nature and did not insist on a bail bond.
"In defamation cases filed by Pavan Khera and Amit Sibal, the courts accepted the undertaking given by Kejriwal and a similar procedure was followed in two other cases registered against him pertaining to protests against the coal scam," the party added.
"Despite the erroneous court order, the AAP will continue and intensify its fight against corruption and for ensuring the rights of the common man," it said.
Congress and BJP today termed as a "publicity stunt" Aam Aadmi Party leader Arvind Kejriwal's refusal to furnish bail bond of Rs 10,000 in a criminal defamation case following which he was arrested while his party defended him saying he had taken a "principled stand".
"It is a matter of principle and not a matter of money. If Arvind Kejriwal furnishes the bail bond, that would mean he is guilty. He had given assurance that he will appear before court anytime when called," senior AAP leader Manish Sisodia, who accompanied Kejriwal in the court, said.
But other parties were unforgiving in their criticism, insisting that the law is the same for everyone. BJP said that the former Dehi chief minister was acting like a "spoilt brat" after the loss in Lok Sabha polls while Congress said he had "lost his mental balance" following its decision not to extend support to AAP to form government.
Kejriwal was sent to Tihar Jail till May 23 by Delhi court after he refused to furnish bail bond in a criminal defamation complaint filed against him by BJP leader Nitin Gadkari. Hitting out at Kejriwal, Congress said the former Chief Minister has even dared to challenge the judiciary. "He has lost mental balance following Congress' decision not to extend support to AAP to form a government again in Delhi. He is hungry about power. Now, he even does not care about Janlokpal Bill and other issues," said Delhi Congress' Chief Spokesperson Mukesh Sharma.
"We condemn his act. We do not have any sympathy for him. Law is equal to everybody," he said. BJP leader Harsh Vardhan said Kejriwal had levelled wrong allegations against party leader Nitin Gadkari who gave him a fitting reply by filing case against him. "The type of politics that he (Kejriwal) is continously pursuing in this country has been grossly and thoroughly rejected by the people of India and more particularly by the people of national capital.
"I don't think any more dramas' of this nature would help him," he said. Senior BJP leader Vijender Gupta termed Kejriwal's action as a "publicity stunt" to gain political mileage. "He is behaving like a spoilt brat. He was very upset following AAP's electoral drubbing in Delhi and elsewhere and that is why he is resorting to such tactics.
"We know he is an anarchist but we did not imagine that he will go to this extent," Gupta said. AAP's Ashutosh, who initially remarked that the party was not aware that Kejriwal would take such a stand, later defended the leader on his stand of not paying the bail bond. "The party is fighting against the corruption. Is it a crime to level allegations of corruption against someone? Our fight against corruption will continue. We do not want to furnish any bond, this is our stand," said Ashutosh.
He said that the party had not anticipated that Kejriwal would be sent to judicial custody. Party's leader Somnath Bharti said that the law of the land does not require Arvind Kejriwal to furnish bond. "In many previous hearings which he attended, he has given undertakings and he was allowed to go. But here the difference is that the person against whom (referring to Nitin Gadkari) Kejriwal has levelled allegations of corruption is a prominent person in the new government," Bharti said.
Another APP leader Gopal Rai said that it has been the party's stand since long and there is nothing new. He said that the party leadership would meet soon to discuss the issue. Kejriwal had yesterday asked Lt Governor Najeeb Jung not to dissolve the Delhi Assembly anytime soon, saying it will hold public meetings across the city to know whether the party should form the government again.
In a meeting, Kejriwal told Jung that the party was deliberating on whether it should form the government. Kejriwal also handed over a letter to Jung in which he said AAP would hold series of public meetings to ascertain people's views on the issue.
However, the AAP leader today said that the party was preparing for fresh elections.