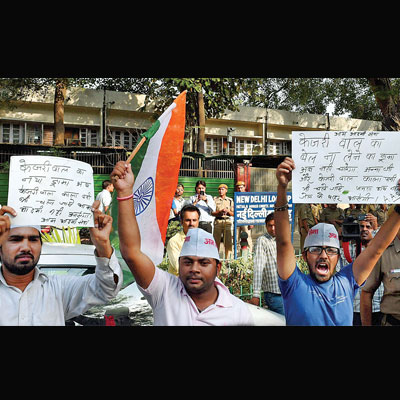 Wednesday turned out to be an eventful day for the Aam Aadmi Party. In the morning, leader Arvind Kejriwal apologised to Delhiites for resigning as Delhi chief minister and by afternoon, a city court sent him to jail when he refused to furnish a bail bond in a defamation case that BJP leader Nitin Gadkari had filed against him. By evening, Kejriwal was taken to Tihar jail where his colleagues and supporters had gathered, terming the situation ironical that those who attack corruption are sent to jail while those who are alleged to be corrupt are free outside.
Ending days of speculation over Delhi government formation, Kejriwal said in the morning that AAP would go for fresh polls as the party saw no chances of forming a government in the city. He apologised to the people who wanted the AAP government in Delhi to continue. "In the next 7-10 days, we will hold a number of meetings in Delhi... We will apologise to the people of Delhi and (seek) complete mandate so that we can form a government for five years," said Kejriwal.
He admitted that the people's anger against his party for resigning from Delhi was justified and thus they would seek people's forgiveness to win them back.
The announcement follows AAP's failure to win any Lok Sabha seat in Delhi where it has 28 MLAs in the 70-member assembly. The decision came after Kejriwal met senior party members and MLAs to discuss their future course of action on forming government in Delhi.
The drama then shifted to Patiala House courts in the city where Kejriwal attended a hearing in a criminal defamation case. In his complaint, BJP's Gadkari had alleged that he was defamed by Kejriwal, who had included his name in the party's list of "India's most corrupt".
The city court sent Kejriwal to two days judicial custody as he refused to furnish a bail bond. It observed that Kejriwal cannot seek preferential treatment to be let off only on an oral undertaking.
Kejriwal had told the court that he was ready to give an undertaking that he would appear before the court but refused to furnish a bail bond to secure bail. Kejriwal said that he had not committed any heinous crime, that he was not looking for any exceptional treatment and that on principle he would not seek bail as he had done no wrong. "I am ready to go to jail," said Krejriwal.