54-year-old Gennady Kernes was shot in the back while riding his bicycle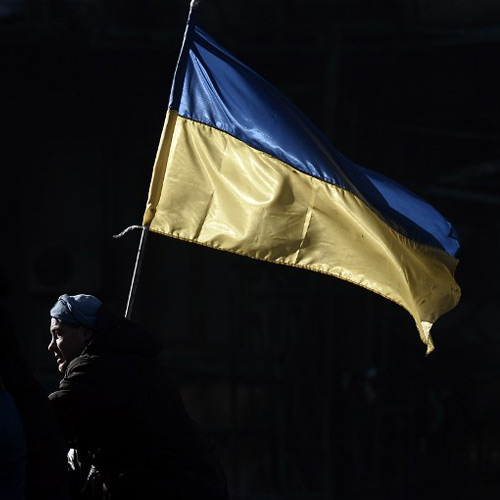 The pro-Russian mayor of Ukraine's second-biggest city, Kharkiv, was in a serious condition on Monday after being shot in the back while riding his bicycle, the latest violence in the country's east.
Gennady Kernes, 54, was riding along the route he takes almost every day when he was shot, probably by someone hidden in nearby woods, said Iryna Kushchenko, spokeswoman for the local government. His bodyguards were following in a car but were not close enough to intervene, she said.
The Interior Ministry said he had been taken to the city's hospital for emergency treatment. "Doctors assess his condition as serious," the ministry said in a statement.
Kernes, who worked his way up the ranks of local government, was accused by Ukraine's new pro-Western leaders two months ago of promoting separatism by demanding independence when pro-Russian protesters took control of administrative buildings.
Ukrainian forces the pro-Russian protesters this month, making Kharkiv the only major eastern city to have taken back control from the armed protesters who have demanded a referendum on independence for most of eastern Ukraine.
he mayor is a colourful character, who has a criminal record for theft and fraud and is not known for tolerating dissent. He is under investigation on accusations of kidnapping and torture but has clung onto his post in Kharkiv, a city of 1.4 million not far from the border with Russia.
Kernes was known for a particularly robust crackdown on pro-Western demonstrations, banning any protests to "avoid the spread of infectious diseases". Pro-Western activists were regularly assaulted. Some had their cars burnt while others were sprayed with a green liquid that is difficult to remove from the skin and impossible to remove from clothes. He also encouraged the rise of the paramilitary group Oplot, whose leader Yevgeny Zhilin told AFP in an interview in February that pro-Western protesters should have their arms broken or eyes gouged out.
On Sunday, hundreds of football fans from rival teams paraded together on the streets of Kharkiv shouting "for Ukraine".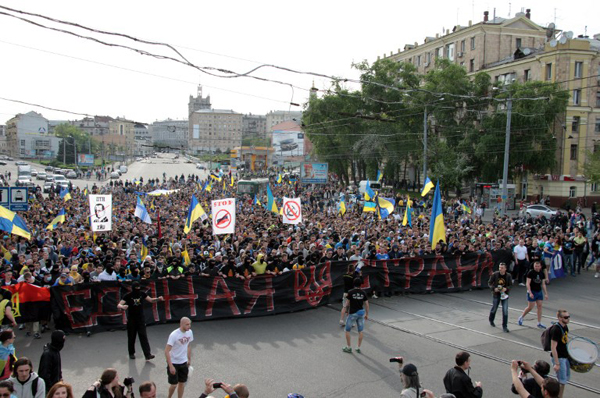 Fans of Ukrainian Football Club Metalist and Football Club Dnipro, in normal times implacable enemies, gather during a march to support a united Ukraine in Kharkiv on Sunday, April 27, 2014. Image credit: AFP