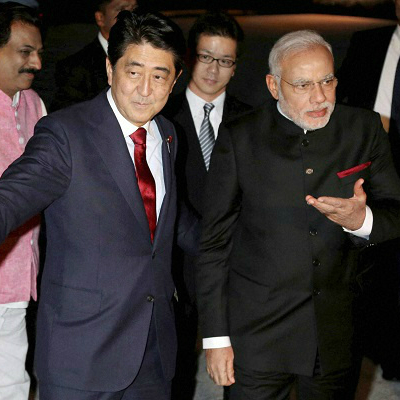 Prime Minister Narendra Modi, who arrived in Tokyo on the second day of Japan tour on Sunday, talked about his wonderful visit to Kyoto and his upcoming programmes. Talking about his stay in Kyoto, Prime Minister Modi tweeted, "In Tokyo after 2 wonderful days in Kyoto. Kyoto is a city of tradition & technology, steeped in the rich Japanese history & culture," adding to it with another tweet describing his actions for tomorrow, which said, "Will begin the day tomorrow with a visit to Taimei Elementary School followed by meetings, address at a Business Luncheon & Tea Ceremony."
The Prime Minister said, "Was wonderful visiting Center for iPS Cell Research and Application in Kyoto. Met Nobel Laureate Mr. Shinya Yamanaka." "Requested Mr. Shinya Yamanaka to work towards a cure for sickle cell anaemia, that is prevalent in some parts of India," he added. Prime Minister Modi said that he enjoyed the discussion with the head priest of Kinkaku-ji temple in Kyoto
"Enjoyed the discussion with the Head Priest of Kinkaku-ji Temple in Kyoto. It is truly a beautiful Temple," he said. Prime Minister Modi also uploaded a picture of him with a young boy, tweeting, "With my young friend at the Kinkaku-ji Temple." The Prime Minister also visited the Toji Temple in Kyoto along with his counterpart Shinzo Abe. "Visited Toji Temple (Kyoto) with PM @AbeShinzo.The Temple is a symbol of strong cultural links between India & Japan," he said. Prime Minister Modi, who is in Japan till September 3, is also scheduled to meet the Emperor of Japan Akihito.