Chinese Foreign Minister Wang Yi will be visiting New Delhi tomorrow as a special envoy of President Xi Jinping to establish political contacts with the new Indian government amid hopes here of an upswing in bilateral ties due to Prime Minister Narendra Modi's familiarity with China.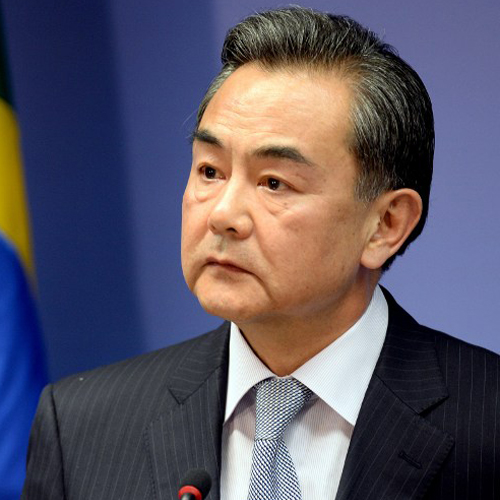 Chinese Foreign Minister Wang Yi will be visiting New Delhi tomorrow as a special envoy of President Xi Jinping to establish political contacts with the new Indian government amid hopes here of an upswing in bilateral ties due to Prime Minister Narendra Modi's familiarity with China.
Wang, 61, a seasoned diplomat will hold talks with External Affairs Minister Sushma Swaraj and Modi himself during his two-day visit.
He is also expected to call on President Pranab Mukherjee and meet the new National Security Advisor Ajit Doval.
This is the first contact between the two governments after the Lok Sabha election while Chinese Premier Li Keqiang has already spoken to Modi over phone soon after he was sworn in.
During his visit, Wang will meet leading Indian officials and will have in-depth exchanges on how to push forward bilateral relations, Chinese Foreign Ministry spokesman Hong Lei told media briefing here earlier.
"India has formed a new government and China and India now face a new opportunities of development," he said.
While the Chinese official media and state-run think tanks projected a new momentum in trade and economic ties between the two countries considering that Modi visited China four times as Chief Minister of Gujarat, Beijing also closely watched the new government's policy towards US and Japan, whom it regards as arch rivals.
China is watching the countries Modi will be visiting on his first trip abroad considering that Li had made India his first destination abroad after taking power last year.
Chinese media has highlighted Modi's plans to visit Bhutan first this month followed by Japan in July.
Modi is expected to meet Xi at the BRICS summit in Brazil next month.
Earlier China has expressed keen interest about the presence of President Mukherjee for celebrations marking 60 years of Panchsheel, the five principles of peace proposed by Prime Minister Jawaharlal Nehru and his Chinese counterpart Zhou Enlai in 1954.
The function is proposed to be held here on June 28.
Also Xi has already expressed his interest in visiting India after the new government took over and the details may be discussed during Wang's visit while Modi also extended the invitation for the Chinese President during his telephone talks with Li.
The new Chinese leadership is keen to improve relations with India in the face of serious challenges it faces over its maritime disputes with Japan in the East China Sea and with Vietnam, the Philippines and other maritime neighbours in the South China Sea amid a major US military push into the Asia-Pacific.
China's foreign minister began a two-day visit to India on Sunday for the first high-level talks between the world's two most populous nations since Prime Minister Narendra Modi took charge.
Wang Yi arrived in New Delhi as a special envoy of Chinese President Xi Jinping to "establish contact with the new government of India", the Indian foreign ministry said.
Despite his hardline nationalist reputation, Modi has been making overtures to traditional rivals China and Pakistan since his Bharatiya Janata Party swept to power last month.
The new Indian leader has invited Xi to visit later this year.
Wang is coming "to engage with our leadership and we will take it from there", foreign ministry spokesman Syed Akbaruddin told a news briefing last week.
"We would be in a listening mode to engage and see."
The Chinese foreign minister arrived in the capital early Sunday morning and is set to hold talks with his new Indian counterpart Sushma Swaraj later in the day, the foreign ministry said.
He is expected to call on Modi and President Pranab Mukherjee on Monday before leaving early the next day.
Foreign policy expert Ranjit Gupta told AFP the visit was a "good augury".
"China has gone all out to woo the new Indian government, which is a great gesture," Gupta, a member of the Indian Security Advisory Council of the US-India Institute, a Washington-based think-tank, said.
"India and China are emerging global powers and with better relations, India will hopefully resume its growth path and reclaim its position in Asia."
- Trade and suspicion -
China is India's biggest trading partner, with two-way commerce totalling close to $70 billion. But India's trade deficit with China has soared to over $40 billion from just $1 billion in 2001-02, Indian figures show.
Experts say Modi must bridge the deficit by seeking greater access to the Chinese market, with the two sides targeting annual bilateral trade of $100 billion by 2015.
"The deficit is a huge embarrassment that keeps growing," said Gupta.
But, despite the strong trade ties, relations are still dogged by mutual suspicion -- a legacy of a brief, bloody border war in 1962 over the Indian state of Arunachal Pradesh, nestled in the eastern stretch of the Himalayas, which China claims as its own.
Modi warned China to shed its "expansionist mindset" at an election rally earlier this year. China hit back, saying it "never waged a war of aggression to occupy any inch of land of other countries".
The nuclear-armed nations, both with one-billion-plus populations, are expected to focus on economic ties and border issues during Wang's visit, following a territorial flare-up in April 2013.
India accused Chinese troops of intruding nearly 20 kilometres (12 miles) into Indian-claimed territory, triggering a three-week standoff that was resolved when forces from both sides pulled back.
The border between China and India has never been formally demarcated, although they have signed accords to maintain peace.
Meanwhile Tibet's government-in-exile, based in India, has pinned its hopes on Modi's government to speak up for Tibetans during Wang's visit.
"This is in the interest of India as well because Tibet, as a buffer zone between India and China, has served the interests of all neighbouring countries," exiled Tibetan premier Lobsang Sangay told AFP.
The government-in-exile launched a renewed push this week for greater autonomy from Beijing, which has ruled the Himalayan territory since 1951.
But China last week dismissed any possibility of discussions on Tibet, calling Sangay an "out-and-out separatist".
India hosts the world's largest Tibetan exile population after offering refuge to the Dalai Lama. The spiritual leader fled across the Himalayas to India after a failed 1959 uprising against Chinese rule.
With agency inputs