Having represented India in junior-level chess, RCB leggie now has batsmen in tight leash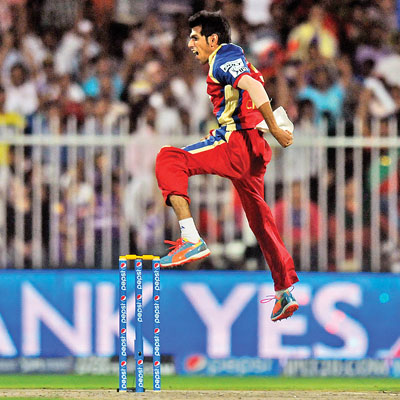 In his early teens, he plotted his opponent's downfall across a chess board. Now, he is making the moves to displace some of the world's leading batsmen in the IPL.
Royal Challengers Bangalore's 23-year-old leg-spinner Yuzvendra Chahal from Haryana has caught the eye with his economy rate – 5.08 – in the UAE leg of IPL on grounds where tall scores are being chased down with ease. Though he may not be taking wickets by the bagful, figures of 1/18 vs Delhi Daredevils, 2/17 vs Mumbai Indians and 1/26 vs Kolkata Knight Riders – calls for some special effort.
This, particularly after he took only one wicket in five Mushtaq Ali Trophy T20 matches for Haryana in the North Zone leg.
Yuzvendra will be dreaming big of representing India in cricket as age is on his side. However, donning India colours is nothing new for this youngster. In 2003, he had represented the country in the Asian Youth Chess Championships in the U-12 category in Kozhikode. He ended in the 13-18 placings with three points. Besides, he finished a disappointing 67th in the World Youth Championships in Halkidiki, Greece, accumulating 5.5 points.
His father, KK Chahal, an advocate in Jind district of Haryana, said: "As an U-12 champion in the 16th national children's chess in Kolkata in December 2002, Yuzvendra represented India in Asian and World Youth Championships."
Chahal said that his son started playing chess and cricket at the age of seven and did well in both. The remarkable aspect of Yuzvendra's foray into chess was that he had learnt it by himself with the help of computers.
"There were no coaches in north India and that's why he had to depend on the computer," said Chahal adding, "However, for want of sponsors, he had to discontinue chess."
"To progress in chess, he needed about Rs 50 lakh per annum and we could not find sponsors. So, he had to abandon the game. He does play it as a hobby these days," he said.
Yuzvendra, who was part of the Mumbai Indians set up until last year and played in only one IPL match besides six Champions League matches for them, has cemented his place in the RCB line-up, at least for now.
Haryana Ranji Trophy coach Ashwani Kumar said that Yuzvendra is more suited for limited-overs cricket. "He has a bowling action with lower trajectory. He bowls faster and keeps around the middle stump-off stump line, forcing the batsmen to play across. Unlike Amit Mishra, who turns the ball big, or Anil Kumble, who has height and gets bounce, Chahal is different. It becomes difficult to cut or pull against him.
Though he may not pick up wickets aplenty, he is economical."
In 30 Twenty20 matches, Chahal has taken 23 wickets and an economy rate of under 6 (5.52). In 17 one-day matches, the economy rate is 3.77.
Presence of Mishra also means he gets to play less Ranji Trophy matches, though Yuzvendra made his Ranji Trophy debut in 2009, he has played in only 14 matches and claimed 25 wickets.
From the game of 64 squares to another across 22 yards, Chahal has come a long way. "Like all parents, I pray that my son progresses to greater heights in cricket," Chahal said.