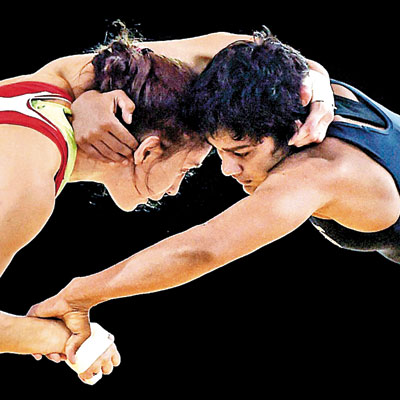 After a painful gold-less session a day earlier, Olympic bronze medallist Yogeshwar Dutt retained his 60kg title and established himself as India's premier wrestling star alongside Sushil Kumar, who had done likewise a day earlier.
Yogeshwar outclassed Canadian Jevon Balfour 10-0 to fetch India's fifth wrestling gold of the Games.
With a good portion of the Indian contingent in attendance at the Scottish Exhibition Convention Centre (SECC) each of the wrestlers got a rousing welcome for their bouts.
A little before Yogeshwar won his gold, his 24-year-old colleague from Haryana, Babita Kumari went one better than her 2010 silver medal to give India two gold medals on Thursday and boost their gold tally to 12.
The lone Indian to fall short in the final was Geetika Jakhar, who went down to Danielle Lappage of Canada. In fact all three Indian finalists had to face Canadians and they got the better of two of them.
Pawan Kumar added a bronze medal with virtually a last-second win over Muhammad Inam of Pakistan. It was the third Indo-Pak wrestling clash that Indian had won at these Games.
This took India's tally from wrestling to five gold, six silver and two bronze medals. That meant the wrestling squad won 13 medals from a team of 14. India had the most medals, but Canada had more gold, seven besides two silver and three bronze for a total of 12.
Babita outclassed seasoned 32-year-old Canadian Brittanee Laverdure 9-2 on Great Superiority after dominating the first period in which she ran up a 5-0 lead. In the second period, the Canadian won two points, but with Babita coming back and winning four more the fight ended in the Indian's favour, making her the second Indian woman wrestler to win a gold meal at these Games, after her first cousin, Vinesh, two days ago.
Babita beat Laverdure, who had announced that she wanted to win a gold before calling it a day.
Getting emotional despite the tiredness, she said wanted to win the gold badly to make up for her sister, Geeta Phogat's absence because of injury at these Games. "I spoke to my sister, Geeta (Phogat) and she said that if I won a gold, her happiness would be doubled and she would feel that she was also here. She had to miss the Games because of an injury, though she had a gold four years ago," said Babita Kumari.
Like Babita, Yogeshwar, too, handled the expectations well enough. It took less than two minutes — in fact just one minute 53 seconds for Yogeshwar to win his gold and prove all his detractors wrong once more. "Since I was injured after London Olympics and did not get to fight till the tournament in Italy, there was some pressure. But that was also the case with Sushil (in 74kg). But I was confident," said Yogeshwar.