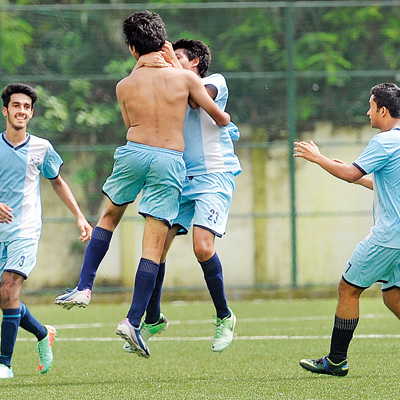 The U-16 MSSA inter-school football match between Don Bosco (Matunga) and Bombay Scottish (Mahim) on Wednesday will be remembered for three reasons.
1. It was the first time that tournament had a semifinal (It was always in a league format)
2. It was also the first time that an MSSA match was played at the iconic Cooperage Stadium in Colaba.
3. Bombay Scottish ended Don Bosco's five-year title streak, beating them 2-1.
Before Wednesday, Don Bosco had lost only one under-16 game in five years. Winning all of their games this year, they were favourites to reach the final. So when they took the lead in the eighth minute itself, one expected them to score at least a couple more. But Bombay Scottish had other plans.
The team from Mahim were distraught after their 0-3 loss to St Lawrence (Kandivli) on Monday, and were determined to prove that they could beat the 'Dons of Matunga'. And when Parth Damani equalised for them in the 20th minute, he couldn't control his emotions.
He took off his jersey in celebration (Of course, he was yellow-carded for the offence) and ran the length of the pitch to celebrate with his teammates.
"Scoring against Don Bosco was a dream come true. I was just too excited. In that moment, I forgot that I would be given a yellow card for it," said Damani.
After equalising, Scottish took control of the game and were attacking at will. They even had a couple of attempts that went wide. At the end of the first half (30 minutes), the scores were tied at a goal each.
Don Bosco must have been given a harsh half-time talk for they came out all guns blazing in the second half. They chased down every ball and also went in for some dangerous tackles, but the team from Mahim were up for the challenge.
Fifteen minutes into the second half, and both teams were tired. The beautiful game turned into one about survival of the fittest. To liven up the game, Bombay Scottish coach, Adip Kenre, decided to get in 'super sub' Bhavya Jain for the remaining 10 minutes. That move worked as Jain's tap-in from an Aryan Singh cross in the final minute of normal time sealed the win for his school.
"We've done what others considered impossible. We just believed in ourselves and played our defensive game. The loss in our previous game really pumped us up," said Kenre, adding that they were still in disbelief as the win was yet to sink in.
Don Bosco coach Leslie Machado said his team weren't up to the mark and that the ground made a lot of difference. "To play on this ground, you need a lot of strength. Sadly, the boys couldn't cope up with it. But take nothing away from Bombay Scottish who played like a champion side."
Bombay Scottish play St Lawrence (Kandivli) in the final on Friday. The Kandivli side beat St Francis D'Assisi (Borivli) 2-1.
Stopwatch: Bombay Scottish (Mahim) 2 (Parth Damani, Bhavya Jain) bt Don Bosco HS (Matunga) 1 (Bryce Miranda); St Lawrence (Kandivli) 2 (Ishan Rana, Krish Adhikari) bt St Francis D'Assisi (Borivli) 1 (Pratik Shah)