Ellen DeGeneres caused Twitter to almost crash with her selfie that featured some top Hollywood stars at the Oscars.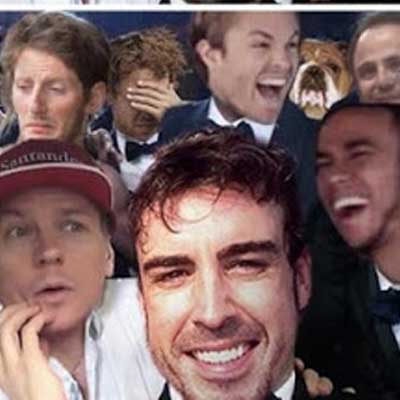 On Oscar night, Ellen DeGeneres's selfie tweet which featured the likes of Meryl Streep, Julia Roberts, Bradley Cooper, Jennifer Lawrence, Brad Pitt, Lupita Nyong'o and Kevin Spacey got 1 million RTs in an hour. The tweet broke the record for the most RTs in Twitter history.
The tweet saw a number of memes that went viral and for sports fans especially those who love F1, Ferrari driver Fernando Alonso found this tweet that he shared,
Not sure who did this, just found here on twitter, but it's epic..pic.twitter.com/jc04Wid9fI

— Fernando Alonso (@alo_oficial) March 3, 2014
With F1 driver's faces replacing those of the Hollywood celebs, Lewis Hamilton, Kimi Raikkonen, Sebastian Vettel, Felipe Massa, Nico Rosberg, Romain Grosjean and Alonso himself were all photo shopped on the well-made meme. Lewis Hamilton's dog Roscoe also made it to the meme and why wouldn't he, when the pooch has official permission to be present in the paddock for every F1 race.
This tweet didn't break any records but it did earn many favourites and re-tweets.
The F1 ace found the person who made the meme and thanked him with this tweet,
@TheMrJourneyer @EvenstarSaima thanks to @EvenstarSaima then!! Great ;))

— Fernando Alonso (@alo_oficial) March 3, 2014
Here are a few other interesting memes of the same selfie where it's all Ellen,
Now Ellen is stealing the ultimate #Oscars selfie spotlight! #Oscars2014 pic.twitter.com/SrbHmlRf4o

— AMC Theatres (@AMCTheatres) March 3, 2014
There was also another one with Grumpy Cat joining in,
Selfies. I hate them. #Oscars @TheEllenShow pic.twitter.com/QcrVBagmSu

— Grumpy Cat (@RealGrumpyCat) March 3, 2014