Ellen DeGeneres' Oscar selfie gets 7 lakh RTs in less than 40 minutes and 1 million RTs in an hour. The tweet has broken records for the most RTs in the history of micro-blogging on the Internet.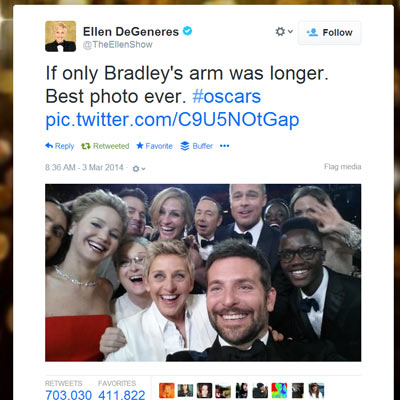 Comedian and talk show host Ellen DeGeneres returned as Oscar host dressed in a tuxedo. She opened the live telecast taking friendly jabs at the audience and nominees.
Ellen was also one of the many stars live-tweeting the awards night. She started with a strikingly blurred selfie from the Oscar stage (#blessed).
And then decided to attempt a record-breaking tweet. So she gathered Meryl Streep, Julia Roberts, Bradley Cooper, Jennifer Lawrence, Jared Leto, Brad Pitt, Angelina Jolie, Lupita Nyong'o and Kevin Spacey together to take the most retweeted photo ever. The photo was taken with a Samsung phone and Bardley Cooper's "long arms".
And she's already received 7 lakh retweets in less than 40 minutes. Add to that some 4 lakh Favourites.
Update: The tweet has crossed a million retweets in an hour.
The last record for most RTs was President Barack Obama's 2012 celebratory tweet after winning the U.S. election that surpassed 7,00,000 retweets. Before he took the stage to affirm his election victory, President Obama marked his win via Twitter. Within hours, this Tweet simultaneously became the most retweeted of 2012 — sent by people in more than 200 countries around the world.
Four more years. pic.twitter.com/bAJE6Vom

— Barack Obama (@BarackObama) November 7, 2012
Ellen said on stage: We crashed Twitter, we just got an email from Twitter. But it's up and running again.
And the Academy's Twitter account appears proud of the achievement with this apology:
Sorry, our bad. #Oscars pic.twitter.com/VrjKjZ4YGl

— The Academy (@TheAcademy) March 3, 2014
Twitter congratulated Ellen and confirmed the record:
The envelope please….to @TheEllenShow - this is now the most re-tweeted Tweet with over 1 million RTs. Congrats!

— Twitter (@twitter) March 3, 2014
Trivia: While Ellen used a Samsung handset to take the famous group selfie, she's using an iPhone backstage.