What used to be played as a hobby, India is aiming for gold in the first South Asian Langadi tournament that got under way in Bhutan on Monday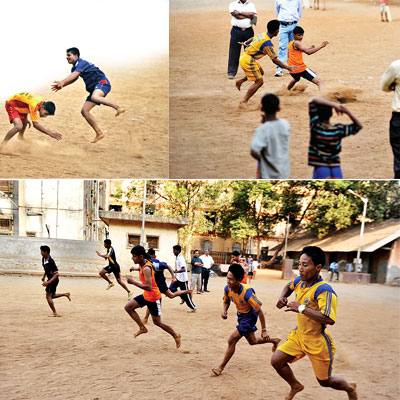 Summer vacation has begun and the grounds in Mumbai are packed with children spending time playing their favourite games. It was no different at one such ground in Dadar East where youngsters indulged in tennis ball cricket, just that they were unaware of a national team preparing for an upcoming international tournament.
On a dusty, uneven Brihanmumbai Municipal Ground ground, around 20 youngsters were seen running and hopping around on one leg – some barefooted and some with shoes on – preparing for the first Open South Asian Langadi tournament, under the aegis Asian Langadi Federation, in Bhutan from May 5 to 7.
Langadi, a traditional sport mostly played as a hobby in youth or school days, is slowly catching up with today's youngsters. The sport is already being played in all the districts of India under Langadi Association of India. Last year, Mumbai University included it in its long list of competitions. However, langadi is yet to get the recognition.
The sport is not restricted as a pastime, but is expanding with many professionals taking it up.
Captain of the Indian team, I Deva Sitham, is a software engineer working in Tata Consultancy Services.
Fifteen-year-old Shubham Gite is the youngest member of the team and is excited to be a part of the team. Studying in Class 10 in Muktangan English School, Pune, Gite was introduced to the sport by his father Sanjay, a physical education teacher three years back.
"I dance and also do B-boying. Langadi helps me in both. My father, who has played cricket at the university level, asked me whether I was interested in langadi and took me to the trials when I said in the affirmative," he said.
"I played in local competitions and got selected in the team. I am fast on the field and that's how I got selected," said Gite.
The youngster said his friends may joke around that but he is proud to be a part of the Indian team. "Yes, sometimes they make fun about the sport since it is played as a pastime and nobody takes it seriously.
However, I am always happy to play it and am proud of representing the country at the South Asian tournament. Gradually, my friends will understand my passion and will motivate me," he said.
Gite felt that the game will help him in the future as well. "Fitness wise, it's great. Professionally, it will help me get a good government job if I don't fulfil my dreams of becoming a pilot or an IAS officer" he said.
Sagar Prithviraj Ingle, 19, hails from an economically backward family. His father is a farmer from Vidarbha region, which is known more for farmer suicides. The youngster has made it to the Indian team on his own.
Ingle does all the routine exercises and practices the sport barefoot. One could not help but notice a blood-stained bandage on his right middle toe. A nail had poked his leg while practicing in his village near Buldhana. "This is nothing. I do it barefoot because I find it comfortable," he said without showing any sign of pain.
Ingle is pursuing Bachelor in Computer Application in his hometown and manages his fees doing odd jobs. "My coach in my village saw me and introduced me to the sport. It is my passion and I love it. I am proud to represent my country," he said.
Yogesh More is the coach of the Indian team. The 28-year-old, who got his coaching degree from National Institute of Sports, Patiala, is about to get married this month and was seen inviting the officials of the association by distributing cards before the practice session.
However, he is more nervous about getting a gold for India rather than having butterflies in his stomach ahead of his wedding. "We are confident to win the gold. We have a good combination. We did well in international meets in Nepal and Bangladesh in the last two years, and now we want to do it in Bhutan," he said.
"We have professionals from all fields playing langadi. The sport is slowly gaining recognition. We want to go professional like kho-kho and kabaddi. We want to have professional leagues along the likes of IPL," he added.
The team, with men and women, has players from all over India selected from the Senior National Langadi Championships. They have players from the places where Hindi is barely spoken like Manipur and interiors of Tamil Nadu and Karnataka. "We don't consider them as players from different states as we call it the Indian team. We communicate with them in Hindi, which is our national language," More said.