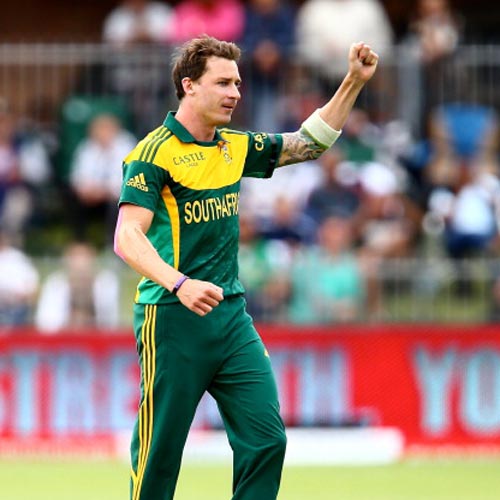 South African pacer Dale Steyn has warned the Indian team to "expect more aggressive bowling" in the second ODI here on Sunday, saying that the visiting batsmen might end up "frightened" by their pace attack.
Fresh from stunning the Men in Blue in the first match at Johannesburg, the fast bowler suggested that his team will not be letting up on their intensity and will be looking to seal the series here.
"In India the ball doesn't get higher than the stumps. This is not Mumbai. Here, they cannot score easily in different areas and it is going to be hard to play here. And there is more of that coming on Sunday.
"Hopefully we can have a similar performance (as in Johannesburg) as we did the other night, and we should be able to come through with a victory. It is a massive game for us, we have the chance to seal the series here and we would like to do so," said Steyn.
In the first ODI, Indian bowlers were clueless on a fast and bouncy wicket, as they conceded 358 runs to the Proteas. Thereafter, the Indian batsmen were clueless against the mighty pace of Steyn and company.
In fact, it came as a disappointment to the hosts that they weren't challenged more by the number one side.
"Our batsmen are batting really well and in some small way we have really given the Indians a taste of what the conditions are. Our intensity the other night really blew them away. Suresh Raina, Yuvraj Singh, R Ashwin and other batsmen in the end, they didn't look like they wanted to line-up (to bat)," he said.
"Then, I didn't see many of our players walking off the field with bloody fingers or ice packs on ribs. Wanderers can be scary, if you get a full day-night game there. You can inflict pain there, especially on that sort of a wicket. And we were able to do that as a bowling unit. It didn't look like that when they were bowling to us. So it definitely was a wake-up call for the Indians."
When asked specifically, if their bowling attack had managed to frighten the Indian batsmen, Steyn replied: "I would think so. I would definitely like to think so." Even so, South Africa won't be taking their opposition lightly.