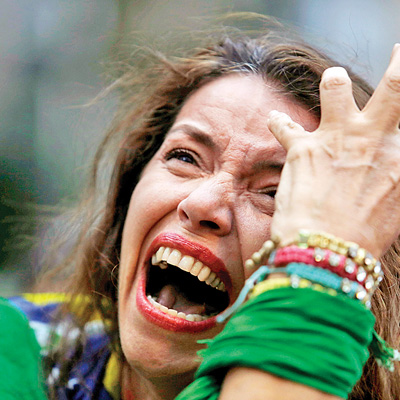 The world believed that soccer belonged to Brazil. Staring with Garincha they produced the game's magicians all the way up to Neymar. For the many inferior soccer countries like us, Brazil meant everything. We appropriated their greats, we stood by their tactics, we replayed their Samba moves over endless beer, we used them as similies of greatness and pure joy and we conferred superhuman status on Pele, Zico, Socrates, Ronaldo, as if they were fabulists with the ball created by the famed magic realists of Latin America.
But yesterday after, Germany's Muller, Klose, Kroos, Kroos again, Khedira, Schurle, Schurrle again shot seven goals past the hapless Brazilian defence, we all wept like that Brazillian lady in this picture at the … stadium which became the scene of massacre, a sort of Aushwitz for our collective memories. Legend, history all lay shattered. We just cannot understand.
What happened? And how?
Five goals were scored in 19 minutes of the first half. The Brazilian defence without captain Silva came easily untied as Muller, Klose, Kroos and company played havoc with them. The defence like the forward line tends to coalesce around the main player of the day and there was no one for Brazil. Silva with two yellows had to sit out and Neymar had to watch the match from home, his vertebra broken., his tragedy having foretold what awaited Brazil.
Brazil league was in trouble for sometime with all the top 20 clubs in 2,5 billion dollars in debt. Their top layers play for European clubs leaving local clubs undernourished and bereft of star value.
"This defeat is the biggest chance we've ever had to modernise and professionalise the running of Brazilian football," Fernando Ferreira, owner of Pluri, a sports consultancy, tweeted after the game."We can't look for explanations on the field. They began years ago and it is the result of shocking management and administration."
On the other hand German league the Bundesliga is the best in the world, all German clubs run academies to groom young talent some of it subsidised by the national federation and about 28,400 coaches groom talent at the primary level in German compared to less than 2000 in England.
These are all statistics now. What vanished from the soccer scene yesterday was a magic and a myth, which we believed in. For many World Cups we in India wore canary yellow jerseys in support of Brazil. In Kerala they put up posters of Neymar and a rumour spread saying he was being flown in for ayurvedic treatment forcing the chief minister to intervene and quell the rumour. All these years we marvelled and now we mourn the 19 minutes in the first half of the semi final yesterday that destroyed everything we loved. From that debris Brazil will take lone to awaken.