Former CSK chief selector VB Chandrasekhar reveals little-known facts about Australian captain.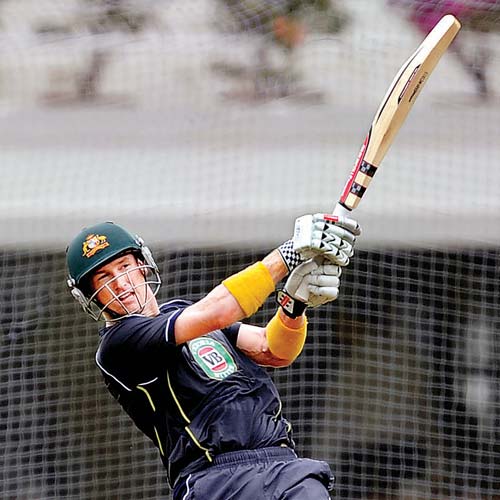 Australian captain George Bailey comes across as a jolly good fellow who enjoys sport. He comes out best in Australian colours when he knows he is enjoying the game. Like on Sunday when he came up with a man-of-the-match performance of 82-ball 85 that gave his side a 1-0 lead in the seven-match series against MS Dhoni's men in Pune.
Bailey was relatively unknown until he was picked up, surprisingly though, as captain for Australia in his first international, a T20 match in February 2012. Since then he has led his country in all the 19 T20Is he has played till date.
However, Bailey's abilities as right-handed batsman and right-arm medium-pacer were spotted by then Chennai Super Kings' chief selector and former India opener, VB Chandrasekhar in 2009.
What was special about Bailey? Chandrasekhar said: "I saw some lineage as far as cricket went.
Down the line, he had some forefathers who played cricket. Other aspect was you needed a slam-bang artiste. I looked at his ability to hit long.
"Though he couldn't get more chances, he was a fantastic team man. You can't pick more than four foreigners, so getting him in the XI was difficult. Gradually, he started focussing on domestic cricket. When he was made Australia (T20) captain, I said whatever I touched turned gold. I had that luck."
VB said that Bailey was himself surprised at being picked for IPL. He said: "George would keep asking me, 'why did you pick me, how you picked me?' but I never gave him an answer. I used to avoid telling him why I picked him."
Despite not playing regularly — he played only four matches for CSK — Bailey was not disheartened. Chandrasekhar said: "He was blending with the team remarkably well. Along with (coach Stephen) Fleming, he gave good inputs that showed leadership skills were waiting to be explored. The enthusiasm provided by the fact that he was selected for IPL reflected on his domestic performances. He led his team Tasmania to the limited-overs title win in 2009-10. He was a lot of fun despite not playing, keeping his spirits high and worked hard."
Chandrasekhar said more about Bailey. "What impressed me most was he could play TT with both hands. He could throw with left also. I have seen him do that in fielding sessions."
VB said that Bailey had a lot more to realise for Australia. "He may not be a rigid captain but has learnt a fair bit by watching the way Dhoni captained (for CSK). He made no bones of the fact that he was a big fan of Dhoni as captain. It will work in his favour. Playing in India is a different sport.
He still has some more unrealised potential in him. The question is if he will open out and play with all aggression or will he be cautious as he is the captain is a very thin line. If he goes for something like, 'Yes I have unrealised potential and the match is entirely based on my performance,' I'd like to see that in him."