While shameful incidents involving officials may have reduced the sheen of medals, there is no denying that inspiring show put up by Indian athletes is a sign of things to come in Asiad this year and Rio 2016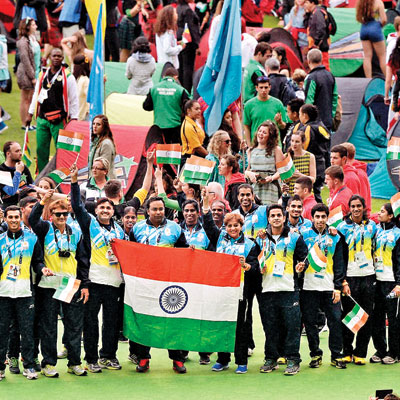 Old habits die hard, or so it seems. The officials have a way of taking away the sheen from the athletes. Four years ago in New Delhi, no one had the time to appreciate on the marvellous 101-medal performance of the Indian contingent in what was the biggest sporting show in India.
If one set of bad eggs had been set aside, another set seems to have begun sending out the stink. Despite a drastic cut in the areas that were traditionally medal-winning for India – Pairs events in shooting, Greco-Roman wrestling besides tennis and archery – the Indians came out with 64 medals, 15 of them gold.
Despite the dip from 101 to 64, the performance was a very good one. For instance, India as hosts had taken part in each of the 17 disciplines while they competed in only 14 this time besides which some of the strong disciplines were not there this time.
Also, India had a contingent of 400-plus in 2010 and it was around 2010 this time. It also showed with India have 26 multiple medallists in 2010 where it was just one, Gagan Narang, this time.
Just as one was getting to ready to bathe in the glory of three finals — one of which produced a gold from shuttler, Parupalli Kashyap — and then reflect on what the exploits of our shooters, wrestlers and some of the boxers and judakas, who very clearly are on a growth path, two officials in two separate incidents courted trouble.
Worse, they were arrested on foreign soil, one a Level 1 International wrestling referee, Virender Malik, for alleged sexual misconduct and another, no less than an office bearer of the Indian Olympic Association, Rajeev Mehta, for Driving Under Influence (DUI).
While the athletes returned home, the two were still in Scottish Police's custody and were due to appear in the Glasgow Sheriff's Court on Monday afternoon local time.
On the final Sunday, when the curtains were coming down on the Games, the Indians featured in two badminton finals and the hockey final, but the focus for the entire day was on the misdemeanours of the two officials.
Till these two unsavoury incidents threw a spanner in the wheels, the Indians were cock-a-hoop with 64 medals, including 15 gold, 30 silver and 19 silvers, which gave them the fifth position on the medal tally in terms of gold medals, and fourth in terms of total medals.
Only usual powerhouses, England (58-59-57 for 174 medals), Australia (49-42-46 for 137 medals) and Canada (32-16-34 for 82 medals) besides hosts Scotland (19-15-19 for 53) were ahead in terms of gold medals.
The performances at Glasgow gave a fair indication of where we could be headed in the Asian Games in two months times and the Olympics in Rio in two years time.
While medals in Commonwealth Games in disciplines like shooting, wrestling, boxing and badminton could take a dip in Asian Games in the presence of China, Korea and Japan, India will do better in some other disciplines.
Also, the Asian Games has more than twice the number of disciplines, so a haul of around 70-plus would be very much in order. India had 65 medals, their best ever, at the 2010 Guangzhou Asiad and that tally also included the best-ever collection of 14 gold medals.
If the Glasgow showing is any indication, India ought to go a step better in terms of medals and take a shot at finishing in top-4 — they were sixth behind, China, South Korea, Japan, Iran and Kazakhstan.
One of the best things about Glasgow showing was that it brought to the fore the nucleus of the teams in shooting, wrestling, boxing, badminton and weightlifting, disciplines which have brought medals for India at the Olympics in recent times.
The shooting squad was a perfect blend of youth and experience and as Raninder Singh, president of National Rifle Association of India (NRAI) said before leaving Glasgow, "We have a very young team and if this squad could win four gold, nine silver and four bronze for a total of 17 medals out of a total of 64, it shows that this is now our premier sport.
"We have a whole bunch of youngsters right down to a teenager like Malaika Goel besides the likes of World No. 1 Jitu Rai, Apurvi Chandela, Rahi Sarnobat, Shreyasi Singh and Ayonika Paul among others.
The seniors have been acting as mentors and we have excellent coaches and officials in people like Mohinder Lal and Kunwar Singh."
He added, "We also had seniors like Mansher Singh, Manavjit Sandhu, Abhinav Bindra and Gagan Narang were also good mentors for the youngsters."
Wrestling found a news star in Sathish Sivalingam, Sukhey Dey and Ganesh among men, while Sanjita Khumukchan and Mirabai Chanu are great prospects in weightlifting. They are all young and under 25.
Wrestling, as India's superstar, Sushil Kumar said, "Look at the likes of Amit Kumar and even Yogeshwar Dutt, besides Bajrang and Satyawart. Then among women we have Babita and Vinesh." Asked about himself, he smiled and said, "I have moved to a new weight from 66 to 74, but won a gold here in Glasgow. Hopefully, I can do that at Asiad and I want a gold from Rio. That will be biggest moment."
Badminton has Saina Nehwal, but she did not come this time, but Parupalli Kashyap and RMV Gurusaidutt among men and PV Sindhu in women show that there is adequate depth and more are coming from the same stable – the 'Gopichand Stable'.
Athletes, discus star Vikas Gowda, women's discus silver medalist Seema Punia and triple jump bronze medallist Arpinder have the potential to be around for a while. But their showing in Asian Games will show how consistent they are, but a medal at Olympics may still be far away, though Gowda has featured in Olympic and World Championship finals.
Squash duo, Dipika Pallikal, just 21, and Joshana Chinappa, 27, were the big surprises as they create a series of upset on way to the gold medal, which was India's first-ever at Commonwealth Games since the sport was introduced at the Games in 1998.
The boxers may have disappointed in that they did not get a gold, but Vijender Singh, Devendro Singh and Mandeep Jangra among men and Laishram Sarita Devi and Pinki Irani among women have the wherewithal to go far.
In addition, the judokas with two silver and two bronze and gymnast Dipa Karmarkar showed that India's potential in areas not seen as India's strength all these years.
While the Indian athletes can hold their head high in pride, the officials, actually only two of them, brought immeasurable shame to the athletes, the country and the Games itself.
Maybe, it is time for the government to step in and take a call saying no matter, each and every athlete has to be accounted for and needs to be cleared by the government.
After all they are wearing India colours and are seen as 'Ambassadors' of Indian sport.