Defending champions snuffs out challenge from 20-year old Spieth to retain Agusta Masters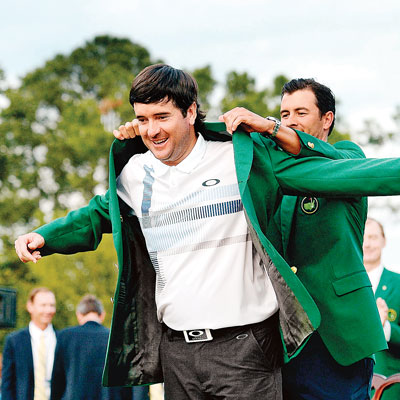 Bubba Watson did not exactly nip Jordan Spieth's challenge in the bud; he actually killed it in a matter of two holes – the eighth and ninth. And, the usual dictum – the Masters does not start till the back nine on Sunday – went out of the window.
What followed was a steady Bubba-show with the 20-year-old Spieth putting on a brave show, but ultimately could do no better than promise that he would be back.
The much-anticipated shootout with guns blazing from two fearless shot makers just did not happen. Watson put it very candidly, "Nobody really caught fire." A perfect assessment of the situation as there was just one birdie each from Watson and Blixt and none from Spieth from amongst the top-3.
Yet, Bubba left all of us with a bunch of abiding memories – a monstrous 366-yard drive around the corner on No. 13, when he was leading by three. Two holes later, he punched a bold and improbable 6-iron shot through a slender gap in the trees, over a pond and safely through the green. Reminders that the audacious and heart-stopping slash around and through the Augusta Pine tops in 2012 was no flash in the pan.
Neither were the tears an occurrence. This time around there was an addition – his two-year-old son, Caleb strolling onto the green to greet his Dad, who was waiting to scoop him in the arms.
"Having my son means more to me than the Green Jacket," Watson said. Seconds later, wife Angie joined the two, and it was time to celebrate. It was Bubba time, but no alcohol, please — Bubba is a teetotaller.
Coming into the final round, there were 13 players within five shots of the lead, but only Bubba shot in the 60s. It was also the 20th time in last 24 years that the winner came from the final group, but the first time since 2010.
Watson, five-under to start, closed with a three-under 69, the best among the top-five, to finish at eight-under 288, while Spieth, sharing the lead with the 2012 champion overnight, three-under through seven ended with an even par 72 and a shared second place with another first-timer Swede Jonas Blixt (71) at five-under 283, with Miguel Angel Jimenez (71, 284) taking sole fourth.
"I was 3-under through the first seven," Spieth said. "So if you told me that when I woke up this morning, I would have thought it would be difficult for me to not win this golf tournament."
A hurt, Spieth left Augusta with a 'hunger' seldom seen on a rookie's face. "That was fun, but at the same time it hurts right now," he said.
For sometime, Spieth looked like adding further gravy to the 17-year theory – that there is always a new player waiting to take over as the youngest Masters champion every 17 years. It was Nicklaus in 1963, followed by Seve Ballesteros in 1980 and Woods in 1997. So, was it Spieth's time in 2014. It did seem so for a while, or rather the first seven holes, which he went through in three-under.
For a few seconds, Spieth with his birdie on fourth was three ahead of Watson, who ensured the gap stayed at two by draining his own putt on fourth for a birdie. The gap was two through till the seventh.
Then came the game-changer. Two quick two-shot swings. Spieth from being two ahead fell two behind when the lead pair got ready to tee up at the 10th and just when the battle was supposed to hot up, it was dead. Almost like the Ike's Tree.
On both eighth and ninth, Spieth pitched up short. On the eighth he compounded with a three-putt and on ninth he saw his ball spinning off the front green. Watson sealed the Green Jacket with birdies on both.
"Eight and 9 were really the turning point where momentum kind of went my way," Watson said. "I knew once the momentum switched it was a little bit in my favor. If you have the lead you always have a little advantage on everybody."
"No, I feel a lot better," Watson said of his second win that required no rally or miracle hook shots out of the Augusta trees. "The shot out of the woods made me famous (in 2012), but this one was a lot better for me and my nerves, my family, probably on (my caddie)."