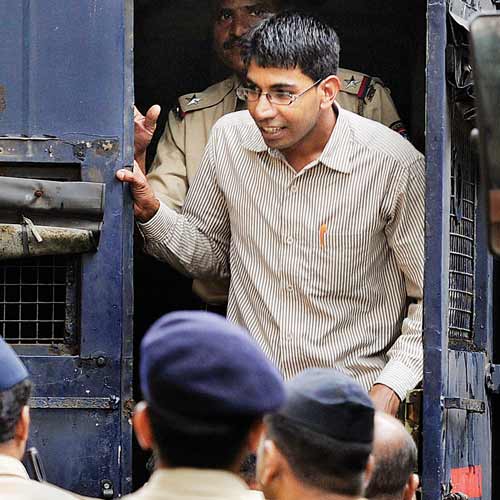 As Pune still heals from the aftermath of Germany Bakery Blasts that shook the city's security misconceptions, Mirza Himayat Baig key suspect and convict will be seeking bail and even contest elections in the coming months. Bahujan Mukti Party (BMP) today announced that Mirza Himayat Baig who has been convicted for the German bakery bomb blasts in Pune, will be their candidate of Aurangabad constituency for the general elections 2014. ( Source: Muslim Mirror ).
BMP and Baig's history
The BMP, a recent entrant into Indian Politics claims to have a motto of real freedom for 'mulnivasi' translated as native dwellers and a mission 'to change the social system as per the Indian Constitution's Preamble'. BMP launched officially only on December 6, 2012 is already popular among the Dalit community and claims to represent the voice of those suppressed by the society in general. Coincidentally BMP's launch in Jammu & Kashmir on April 18, 2013 where it promised to represent the people of the state who face discrimination in other parts of India, was around the same time when the nation saw Baig on trial.
Baig, the lone convicted accused in the 2010 German Bakery bombing that killed 17 and wounded 58, was on April 19 2013 sentenced to death for murder and criminal conspiracy by the sessions court at Shivajinagar, which termed his crime as "rarest of rare".
Baig's lawyer, Mahmood Pracha maintains his previous statement that, "Baig belongs to a financially weak family. His father and brother run a small snacks centre. Baig had no previous conviction against him. He is not a hardened criminal." Pracha had in April 2013 claimed that the ATS has failed to prove charges against Baig. He had said, "The ATS has failed to prove that Baig is a member of Indian Mujahideen or Lashkar-e-Toiba which are banned in India since 2004. Here an innocent is suffering and the real culprits are roaming free."
Baig is now awaiting bail to contest elections. The party that has a strong hold in Maharashtra for certain sects of the society believes that Baig is innocent and making him their candidate will bring attention to all the capable individuals who have been wrongly accused and put behind bars. Yasin Baktal who also faces conspiracy charges for the blasts at German bakery in Pune on Feb 13 2010 according to the charge sheet filed by Maharashtra ATS is still in trial while Baig who was named as the co-conspirator was convicted with death penalty and will be seeking bail soon.
BMP's move may raise questions for some but with its appeal to a certain section of to society who believe in Baig's innocence this could be a very bold move that might make competitors very uncomfortable.
Related reads: