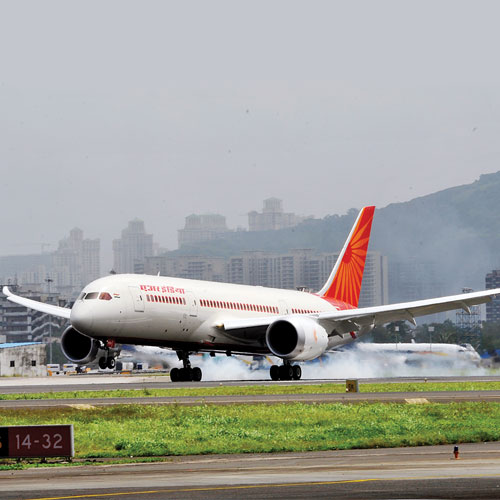 Pune: In a span of less than six months, two Air India flights were aborted after the tyres of the aircraft burst. On Saturday night 157 passengers travelling by Air India had a narrow escape when the rear tyre of the flight burst while the aircraft was landing at Pune airport at 9:30pm.
There was no major mishap in the incident and all the 157 passengers were reported to be safe. An airport official confirmed the incident that occurred at 9:30pm on Saturday night. He said there was an engineering snag and there was not much cause of concern as there was no injury reported.
The airlines accommodated the passengers in the hotel and they flew on Sunday morning by 7:30am flight to Delhi.
"The flight number AI 853 from Delhi that was carrying 157 passengers landed at Pune airport on Saturday at 9:30 pm, during the landing two rear tyres burst. The pilot brought the aircraft to the parking bay and the passengers alighted safely."
Vandekar added, "The same aircraft was scheduled to depart for Delhi at 10:30pm with 70 passengers, however due to the technical snag the aircraft was grounded and the passengers were accommodated in a hotel and all the 70 passengers were sent by the morning 7:30 am flight to Delhi."
Vandekar further added, "The tyre of aircraft was changed and the aircraft left for Delhi at 2:30 am. The incident took place due to a technical snag and strict action will be taken against the person in-charge for the maintenance of the aircraft."
This is not the first time this has happened. Last year, on December 27, 151 passengers had a close shave with death after the Air India flight 849 from Delhi suffered a tyre burst while the aircraft was landing at Pune airport.