AAP LS candidate Subhash Ware's procession kicked off with high spirits in Pune's cantonment area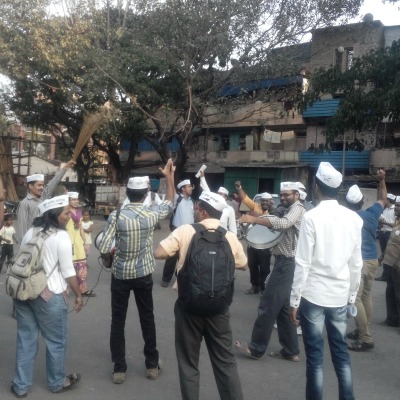 Pune: Election campaigns, which stereotypically mean a trail of leaders followed by their 'faithfuls' and another row of vehicles and party flags, saw changed definitions in the Aam Aadmi Party's (AAP) campaign on Tuesday in the cantonment region. Lok Sabha candidate Subhash Ware, along with a small party of 20-25 members went door-to-door spreading their party agenda, which is their move against corruption.
The young 'bapus'
Door-to-Door
Equipped with sheer will, motivation and a microphone hung around the shoulders, Ware's followers of Ware approached people of the Solapur Bazar road. Defying the usual method campaigning, the procession looked more like a street musical, where the campaigners where seen singing and demonstrating their issues. Rushal Thacker, a consistent volunteer in every such AAP campaign makes sure, the campaign reaches people in the form of 'aam admi caps', their symbollic 'jhadoo' and a smiling Ware.
Janta's verdict
As the rally moved from the Solapur Bazar road to Central Street via Modikhana, local residents swarmed out of their houses with to the beats of 'dholaks' and impressive slogans. "I am not very sure what the Aam Admi Party's plan is, but they have started on a positive note and that's what interests me", said Pradeep Ahil, a gas agency worker. Khalil Khan, a businessman by profession, opined, "This is a much-needed change, government and governance is not child's play, but AAP has proved its calibre at the center. Since the leaders are from people among us, they know us and our needs best."
However not everyone held such postivite opinions, "It's election time, and they are just doing their publicity. Someone like me who has to work for 8 hours to feed my family can't be bothered about AAP or any other such demonstration," said Ram Chandra Manohar Jedha, a retired corporation employee. And some responses were cynical. Vanshilal Soni who's a facereader was doubtful about their performance, "These people got a golden opportunity to form government and show how it's run in Delhi, but look at what they did. They disappointed us, the voters."

Mixed-bag response
There certainly cannot be any complains with respect to their energy and spirits, but the campaign did lack manpower, making the response mild at moments. But that is what heightened the drama. When one of the volunteers requested Manohar Pardesh, a local pan shop owner, to put up pamphlets on his shop, he complied, despite being an RSS worker. In another heart-warming incident, Shivaji Rathod, who is visually-impaired from one eye, overwhelmed supporters by just donning the white cap on his head. AAP's strength may not lie in numbers, but they definitely made their presence felt in the Cantonment region.