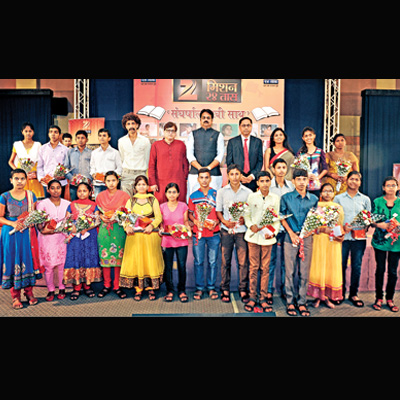 Neha Patil, 16, had scored 98.4% in her SSC exams (Marathi medium).
A score high enough to give a person pleasant sleep. But it persistently bothered her. Why only 98 and 99 in some subjects unlike 100 on 100 in Marathi?
After revaluation, the Kolhapur resident's final tally stood at 99.2%. She scored 100 in almost all subjects.
It is this urge to accomplish anything that can be bettered, which continues to drive her and 24 others who were the stars at a felicitation event organised on Friday by Zee 24 Taas.
The event was organised at YB Chavan Centre. Zee 24 Taas, through its 'Mission Zee 24 Taas – Sangharshala Havi Saath', started an initiative to support high performers who have little or no privileges in life but outperform those who get all the facilities.
Zee 24 Taas highlighted their stories and raised around Rs25 lakh. Each student got more than Rs50,000. Some even managed to get a laptop.
"Some of these students are first generation learners... The idea was to highlight their achievement. A number of people decided to support them," Uday Nirgudkar, editor Zee 24 Taas, said.
Students of Laxmibai English High School gave Rs51,000 from their pocket money when they saw the struggle these students went through.
Those who were facilitated included students who don't have electricity at home and walk over 5km to reach their schools. Most come from a family that struggle to eke out a living. In some cases the students even did odd jobs to help the family.
Yogita Hingola scored 93.40%. "If you have dreams and are committed to achieving them, you can overcome all hurdles," said Hingola.
The students were felicitated by parliamentary affairs minister Harshwardhan Patil, minister of state for housing Sachin Ahir. Film personalities Dr Usha Jadhav, Manoj Joshi, and Makarand Deshpande attended the meet. Monica More, who lost her hands in a rail accident, was present as a symbol or persistence to live life to the fullest.