Even as chaos ensues in Delhi following the arrest of Aam Aadmi Party leader Arvind Kejriwal, yesterday, AAP following across the country is yet to join the trademark "dharna" this time.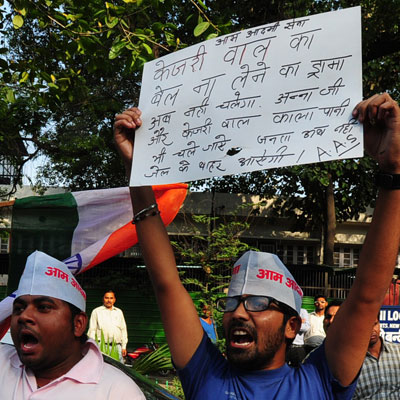 Aam Aadmi Party leaders and supporters in Delhi took to the streets, yesterday, in protests of Kejriwal's arrest, which incidentally came hours after his apology to the people of Delhi for his resignation from the post of the chief minister, earlier this year. The arrest set into motion a chain of spontaneous protests of AAP supporter, resulting to the arrest of around 70 party workers, including prominent leaders such as Yogendra Yadav and Manish Sisodia.
Critics have, however, termed the protests as a gimmick for the upcoming polls, especially considering just earlier Kejriwal had expressed willingness to contest in the Delhi assembly polls again. "It was a matter of principle that Arvind Kejriwal chose to go to jail," explains AAP Maharashtra secretary Preeti Sharma Menon.
But why the demonstrations? "The dharna was a spontaneous response to the arrest. If Modi was arrested, tomorrow wouldn't the BJP take to the streets?" she questions.
READ: Politics or gimmickry: what are Arvind Kejriwal's priorities?
Kejriwal was arrested for refusal to pay the bail amount ordered by Delhi court in a defamation case put against him by BJP leader Nitin Gadkari. He was taken to Tihar jail last evening, where AAP members gathered, and criticised the courts decision terming it as ironical stating that while those who attack corruption are sent to jail, others who are alleged to be corrupt remain free.
READ: AAP tweets 'incriminating' documents against Nitin Gadkari: Evidence or hastily compiled propaganda?
And yet despite the aggravated outrage among supporters, the protest remained localised to Delhi, with only minor repercussions in other cities. "What is the point in holding a protest in Maharashtra; what good will it do demonstrating in towns here?" explains Menon, on being asked what has been planned by the state body in support of their leader. "We are with Arvind, in solidarity. He did what he has always done," she added.
But they are not doing absolutely nothing. "We have asked volunteers to instead organise prayer meets in support of Kejriwal," Menon informs.
ALSO READ: Arvind Kejriwal's arrest trends on Twitter, supporters tweet with the hashtag #IstandWithKejriwal
However, their dignified stand must not be mistaken for complacency. Menon expresses her anguish at the arrest, "A number of defamation cases had been filed against AAP leaders after election campaigns," she explains. "In all of those hearings, we have given the court an undertaking to the court. This was the first time that we were asked to deposit a bail, a move that is usually considered in cases of hardened criminal or those deemed unreliable. Why would a former chief minister be asked to give bail; why is he being treated as though he is a threat to the society?"