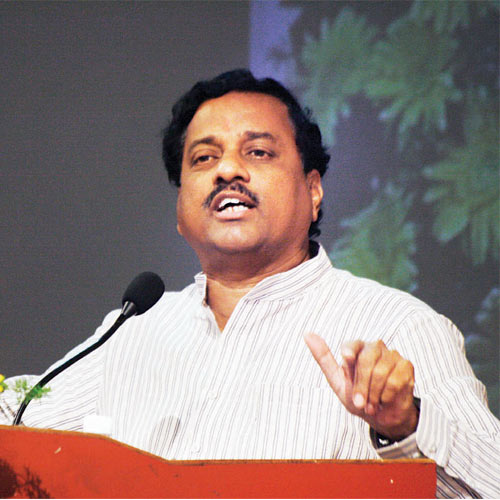 Raigad guardian minister Sunil Tatkare, who was targeted by Maharashtra NCP chief Bhaskar Jadhav for not strengthening the party in the Konkan belt, has asked his party workers to bury all differences and work together to make the party strong.
Addressing a rally at Kalamboli on Sunday, Tatkare said, "It is the duty of every NCP worker to inform the masses of the public welfare decisions taken by NCP chief Sharad Pawar and about the schemes started initiated by the state government. We will have to forget the differences, if any, between us and work towards strengthening the party in state."
Without naming Jadhav, Tatkare said he does not give much importance to the allegations being levelled by the opposition or from within the party and works for betterment of the party and to strengthen it.
Tatkare also reiterated the party's demand that NCP should be given 22 seats during the upcoming Parliamentary elections as against 19.
On the Navi Mumbai International Airport that is slated to come up in the region, Tatkare said, "The project is of benefit for the region but at the same time concerns and demands of project-affected persons (PAPs) should be taken into account and met before going ahead with this project."
On the issue of including Cidco developed nodes like Kharghar, Kamothe, New Panvel and Khanda colony in Navi Mumbai Municipal Corporation (NMMC), Tatkare said, "It is not a new subject, and the matter has been in discussion for quite some time now with the urban development department. However, the government is working on a policy to have a separate civic body for these areas."
On Cidco homes, where residents have carried out additional constructions out of need, Tatkare said, "During the upcoming assembly session, a meeting will be convened with the officials of Cidco and urban development department to take a decision in the matter."
Tatkare at rally
Raigad guardian minister Sunil Tatkare has asked his party workers to work together to make the party strong
Without naming Jadhav, he said that he does not give much importance to the allegations being levelled by the opposition or from within the party
On Cidco homes, where residents have carried out additional constructions, Tatkare said, "During the upcoming assembly session, a meeting will be convened with the officials of Cidco and urban development department."