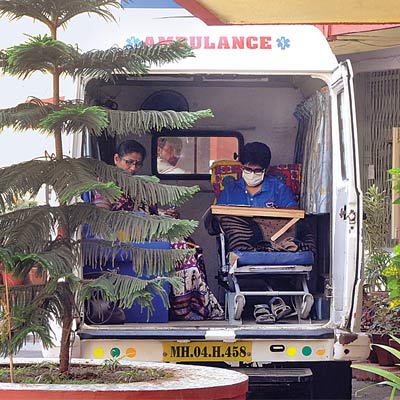 Unlike other class X students, who sit on their assigned seat numbers of their examination centre to write exams, the 16-year-old Dhyey Amlani has a different seat from the rest of them. Dressed in a blue t-shirt, legs draped with a blanket and a white mask to cover his mouth, Amlani wrote his SSC Hindi language paper, from an ambulance parked outside his centre in Borivli (W) on Wednesday.
Amlani, who suffers from Acute Necrotizing Pancreatitis -- a sudden inflammation of the pancreas, has been undergoing treatment. But the illness has not dampen his spirit. Amlani appeared for his exam sitting in an ambulance parked outside the Mary Immaculate Girls School building, after his parents requested the Maharashtra State Board of Secondary and Higher Secondary Education to make the required arrangements as Amlani insisted on taking the exam.
"The boy's doctor called us two days back and explained his condition and requested if he could write the exam from the hospital itself. Since we could not allow that, we decided to change his centre to a one near his hospital and let him write the exam from the ambulance stationed at the centre," said Laxmikant Pande, chairperson of the board's Mumbai division. The boy was admitted in the ICU for 16 days and was discharged only recently.
Amlani a student of Rustomjee International School and Junior College, Dahisar, will also be allowed additional time, if required. "We as well as the doctors had suggested against him taking the exam. He is under a lot of pain and we are extremely worried. However, he insisted that he wanted to appear for the exams," said the boy's mother. Looking at his son's enthusiasm to appear for the exams, his father, who works in Kenya flew down to Mumbai to make the required arrangements.