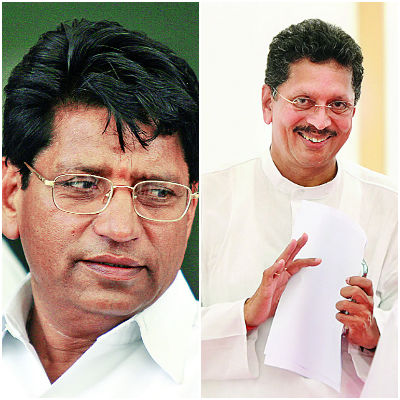 With elections due in October, the Ayaram-Gayaram season is upon us. With the Shiv Sena- BJP led Mahayuti — the six-party rainbow coalition — having an edge in the coming state polls, many leaders from the Congress and NCP are knocking at the doors of the saffron alliance. However, leaders of the saffron alliance feel they will be edged out by "rats who are fleeing the Congress-NCP's sinking ship", as Sadabhau Khot of Swabhimaani Pakshathese, the political arm of Raju Shetti's Swambhimaani Shetkari Sanghatana, described it.
While former minister Babanrao Pachpute, an NCP legislator from Srigonda in Ahmednagar is on the verge of joining the BJP, former MLA from Loha-Kandhar in Nanded, Pratap Patil Chikhalikar, a known adversary of former chief minister and local Congress biggie Ashok Chavan and former Solapur MP Pratapsinh Mohite Patil's son Dhavalsinh, have joined the Shiv Sena.
The Sena has already weaned away the NCP MLA from Sawantwadi in Sindhudurg, Deepak Kesarkar, who played a major role in the defeat of industries minister Narayan Rane's son and incumbent Congress MP Nilesh from the Ratnagiri-Sindhudurg constituency and Ramesh Gavit, brother of former NCP tribal development minister Dr Vijaykumar Gavit. Dr Gavit's daughter Dr Heena breached the Congress stronghold of Nandurbar in the Lok Sabha as a BJP candidate by defeating veteran Manikrao Gavit.
Incidentally, Dr Gavit's other brother Sharad, a Samajwadi Party MLA from Navapur, has switched loyalties to the NCP.
PWD minister Chhagan Bhujbal also received a jolt when one of his associates from Vidarbha, Kishor Kanhere joined the Sena while Rane's associate Ravi Phatak too switched over. Former legislators Shahajibapu Patil, Anil Babar, Prithviraj Deshmukh are also with the saffron alliance.
"This is the impact of the changing times," said BJP spokesperson Madhav Bhandari.
According to Professor Surendra Jondhale of the university of Mumbai, political fidelity and ideology and a political programme were losing out to the lure of political interests and ambitions.
The induction of some leaders like former minister Ajitrao Ghorpade, who has a powerful base in the Tasgaon-Kavathemahankal constituency in Sangli, into the BJP is pending. Ghorpade, who had made way for home minister RR Patil in the 2009 assembly elections after their constituencies were merged, supported the BJP's Sanjaykaka Patil, who trounced union minister of state Pratik Patil (Congress) in the Lok Sabha elections.
Though Ghorpade, who may pose a formidable challenge to the home minister, is eager to contest as a BJP candidate, the Sena does not want to relinquish its claim over the seat.
In the Lok Sabha elections, where the Shiv Sena and BJP led alliance swept 42 of Maharashtra's 48 constituencies, around a third of the seats in the state saw candidates who had shifted loyalties in the recent past being fielded.