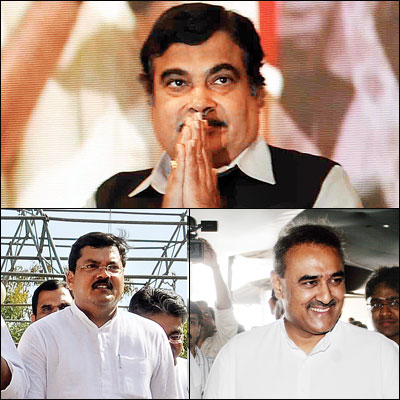 The political fate of heavyweights like former BJP chief Nitin Gadkari, former Union minister Mukul Wasnik, Union minister Praful Patel, and state minister Shivajirao Moghe is on the line as Vidarbha gets ready to vote on Thursday.
The backward region of Vidarbha, which hits the headlines for farmer suicides and agrarian distress, accounts for 10 of the 48 Lok Sabha seats in Maharashtra. But these larger issues plus the development plankt notwithstanding, the elections that saw BJP's prime ministerial nominee Narendra Modi, Congress president Sonia Gandhi and vice-president Rahul Gandhi campaigning here are dominated by caste, religion, money and clash between personalities.
Now, the BJP-Shiv Sena and the Congress-NCP alliances are evenly poised with each holding five seats — four for the Congress, three for the Sena, two for the BJP and one for the NCP.
In 2004, the saffron alliance virtually swept the region — largely due to and anti-Congress-NCP wave and the BSP, which has a committed cadre and transferable vote base eating into the Congress votes — and won 10 of the 11 seats, barring Nagpur. Veterans like Prabha Rao and Patel had to bite the dust.
The Sena-BJP hopes to repeat it this time, banking on the anti-incumbency wave and the perceived attraction for Modi among urban and semi-urban voters.
In his second electoral foray after an unsuccessful attempt at getting into the state assembly in 1985, Gadkari, who was not a member of either house of Parliament even when he was the BJP's national president, is taking on seven-time Congress MP and former Union minister Vilas Muttemwar. The contest will also see Gadkari's bugbear Anjali Damania (AAP) and Mohan Gaikwad (BSP).
Though Gadkari is banking on his pro-development image and has managed to steadily chip into the Congress social base, brick by brick, Muttemwar, an old Congress warhorse, hopes that the Dalit-Muslim combination in Nagpur, which has helped the Congress retain the seat in the past — barring in 1996, may help him sail through. Congress leaders admit that this may be a close fight.
But much depends on how other candidates, including Independents from the Muslim and Dalit communities, eat into Congress votes. Though Damania is an outsider in Nagpur, she may walk off with some Muslim votes.
In neighbouring Ramtek, which has a massive geographical and demographic sprawl, Wasnik faces a tough battle from the Sena's Krupal Tumane, who lost by a slender margin in the 2009 polls. But Tumane worked in the constituency in the intervening period.
Wasnik's image of being inaccessible and out of touch with his constituents may not help him in Ramtek despite support from Dalit leaders Jogendra Kawade and Sulekha Kumbhare. The BSP's Kiran Rodage-Patankar and the Samajwadi Party's Maya Chaware too may eat into the Dalit and Muslim votes.
Patel too faces a tough contest from BJP MLA Nana Patole, who has a strong caste-based support among Kunbis and OBCs. In 2009, Patole, who was then with the Congress, fought as an Independent, and emerged as number two in the contest, relegating BJP MP Shishupal Patle, who belongs to the influential Powar community, to the third place.
In Gadchiroli, known for its mineral wealth and Left wing extremism, the Congress has dropped sitting MP Marutrao Kowase to field Gadchiroli MLA Dr Namdeo Usendi, who is being backed by former minister Vijay Vadettiwar. The BJP's Ashok Nete, who lost in 2009, hopes that his early start in the campaigning and local alliances may help him win.
Dalit icon Dr Babasaheb Ambedkar's grandson and former MP Prakash Ambedkar's unique social engineering model in Akola may be under threat with the Congress fielding its sole Muslim nominee from Maharashtra — Hidayat Patel.
BJP MP Sanjay Dhotre hopes to sail through the contest, which has seven nominees.
Wardha, which boasts of its association with Mahatma Gandhi and Vinoba Bhave and is one of the two districts under prohibition in Maharashtra, has seen Congress MP and education baron Datta Meghe's son Sagar and his father's former acolyte wrestler Ramdas Tadas (BJP) locked in an intense contest. The BJP is banking on caste dynamics and internal wranglings in the Congress, which held primaries to select its candidate, to emerge victorious in Wardha.
In Chandrapur, the BJP's incumbent MP Hansraj Ahir hopes that cleavages in the Congress due to environment minister Sanjay Deotale's nomination, which invited the ire of former MP Naresh Pugalia, may help him make the cut in a triangular fight which has AAP's Wamanrao Chatap, former Swatantra Bharat Paksha MLA and Shetkari Sanghatana leader.
The contest between Sena MP Anandrao Adsul and his principal challenger and actor Navneet Kaur Rana, an Independent MLA from Badnera and Ravi Rana's wife, has seen political propriety plunge to depths with insinuations flying thick and fast. But dissent in the NCP against Rana and the presence of RPI leader Dr Rajendra Gavai and the BSP's Gunvant Devpare in the fray may have made Adsul's task easier.
Gunvant Deopare, a former NCP man, has expelled party leader Sanjay Khodke, whose wife Sulbha was defeated by Ravi Rana from Badnera in 2009, campaigning for him.
In Buldhana, the Sena's Prataprao Jadhav too hopes to sail through because of the anger in the NCP over former MLA Krishnarao Ingale being nominated overruling other prospective candidates like former minister Dr Rajendra Shingare and former MLA Rekhatai Khedekar.
In Yavatmal-Washim, the caste calculus may tilt the scales in favour of Sena MP Bhavana Gawli against social justice minister Shivajirao Moghe in a contest that has 26 candidates, including Raju Patil Raje (MNS), Mohan Rathod (BRP-BMS), Baliram Rathod (BSP) and interestingly, Gawli's estranged husband Capt Prashant Surve. That Moghe, an Andh tribal, represents the Kelapur assembly segment, the pocket borough of Arni-Kelapur falls in Chandrapur constituency, has not helped matters for him.
But the Congress has tried to forge a social coalition versus Bhavana Gawli, a Maratha, by placating Banjara community leader and former MP Haribhau Rathod with a legislative council seat. The Banjaras account for a significant share of voters.