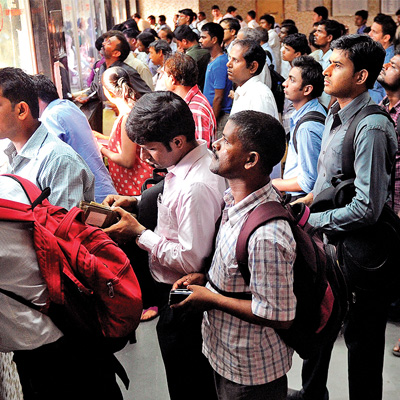 The Bombay high court has scheduled for hearing on Tuesday a couple of public interest litigations challenging the steep rail fare hike that will come into force from June 25. The petitions demand relief for commuters and setting up of an independent authority to review the fare.
A petition by the Mumbai Grahak Panchayat has stated that the new fares are discriminatory and should be scrapped immediately. It also wants a Railway Fare Authority be set up that will hear all the stakeholders before deciding on the new charges.
"It should work out a proper formula through a transparent process and with application of mind by experts and not just babus," said Uday Warunjikar, counsel for the panchayat.
He also pointed to the new Metro rail service where commuters are likely to be charged a maximum of Rs40 for 11 km, saying "here the charges are higher than that for shorter distance."
In another petition, journalist Ketan Tirodkar stated that the fare hike would take a toll of blue-collar workers.
"In view of the murderous hike in rail fares announced on 20 June 2014, the blue-collar workforce commuting by local trains in Mumbai and between Mumbai and Pune, Nashik, will be forced to either stop travelling or travel without season tickets. The third option will be to commit suicide or perhaps take to crime," Tirodkar stated.
He agreed that the fare hike was inevitable as the railways had mounted losses, but argued that the hike should be reasonable.