Pressure mounts on Bharti and Vishwas for racist slurs.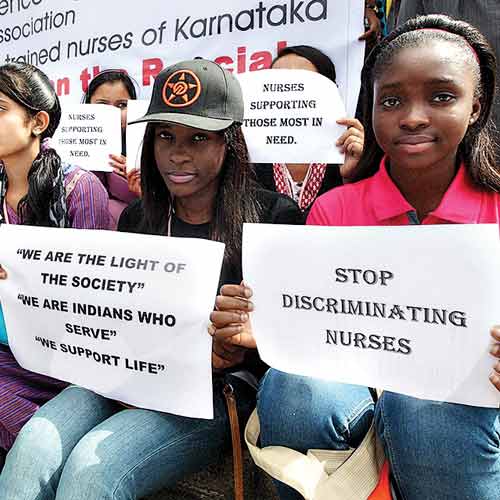 The Aam Aadmi Party (AAP) can't decide on what action to take against its leaders Kumar Vishwas and Somnath Bharti.
The nursing community nationwide is up in arms against Vishwas for making derogatory remarks against Malayalee nurses. Bharti faces allegations of being racist from several people, including women activists and Ugandan nationals.
Under fire from various groups, Kumar Vishwas on Wednesday apologised for hurting the sentiments, saying the jokes delivered at a 'sammelan' in 2008 were in a light-hearted manner and scripted without an intention to hurt anybody's feelings.
The All India Nurses Association (AINA) has strongly condemned his sexist slur and has written to Delhi CM Arvind Kejriwal demanding that Vishwas publicly apologise or be debarred from AAP.
"If Kejriwal has any kind of respect for women and the nursing profession, then he should compel Vishwas to issue a public apology on national television or be thrown out of the party," Dr Abraham Mathai, AINA president, said.
General secretary of the Maharashtra unit of the All India Milli Council MA Khalid, who is from Kerala, has filed a complaint against Vishwas with the additional commissioner of police (south) Krishna Prakash.
Leaders of the Mumbai Malayalee community, including V Gopalakrishnan Nair and Bupesh Babu, have denounced Vishwas and threatened an agitation against him. Nair said: "We will not let Vishwas enter Mumbai if he does not tender a written apology."
The poet turned politician, who has decided to challenge Congress vice president Rahul Gandhi in Amethi constituency, said he doesn't appreciate any discrimination based on religion, region, gender, caste or creed. "But if some words of mine have hurt the sentiments of my friends, I apologise to them from the depth of my heart," he said.
But Vishwas's apology has failed to cut ice with several nurses associations. Members want strict action against the AAP leader.
Mathai said Vishwas cannot escape responsibility by saying the comments were made in jest.
"More than 75% of nurses in any hospital are from Kerala. They are hurt and saddened by such a horrible remark."
In a 2008 YouTube clip, Vishwas is seen calling the nurses "Kaali peeli". He goes on to say: "They are dark so men are happy to call them sisters."
"The National Commission for Women will issue a letter to Vishwas on Thursday seeking a detailed response," Susieben Shah, chairperson, Maharashtra State Commission for Women (MSCW), said. "He is attacking women and nurses of India at large by passing such irresponsible remarks. Nursing is a noble profession... No person has any right to demean another person on the basis of creed, caste, sex, height or colour."
Kamal Vaykole, general secretary of the Maharashtra government nurses federation, said nurses from Kerala are a dedicated lot who work hard for patients. "It is wrong to comment on someone's skin colour. His comments show him in an extremely poor light."
AAP leaders in Delhi went into a huddle on Wednesday to decide on the action against law minister Bharti.
Senior leaders like Prashant Bhushan have already pulled him up for his crass comments against senior Supreme Court advocate Harish Salve and BJP leader Arun Jaitley.
But some leaders feel any action against Bharti could open the door for further criticism from rival political parties.
"Bharti has been asked to mind his language. The party, however, knows that if they persist with the status quo, their support base may be eroded. Criticism from some quarters like BJP, Congress or their affiliated groups is expected but there are several other supporters and leaders within the party who are unhappy with Bharti," a source said.
Also, the Delhi Commision for Women has summoned Bharti for his actions in Khirki extension.
A group of eminent activists and organisations have written an open letter to Kejriwal demanding action against Bharti. They have also asked AAP to initiate a public dialogue with the Ugandan women who alleged sexual violence and also publicly apologise to them all.
Now that a Ugandan woman has identified Bharti as the one who led the group of men who barged into her house and attacked them has only added to the party's woes.
The Delhi police has transferred the case against Bharti from Malviya Nagar police station to Mehrauli police station to ensure an unbiased investigation.
Delhi Pradesh Congress president AS Lovely has sought an appointment with Lt Governor Najeeb Jung on Thursday. The Delhi Congress wing will demand a judicial inquiry into the law minister's incident. "The law minister is being protected by the police because he enjoys the status of being a minister. The job of the police is not to protect the rich... but to protect the common man," Lovely said.