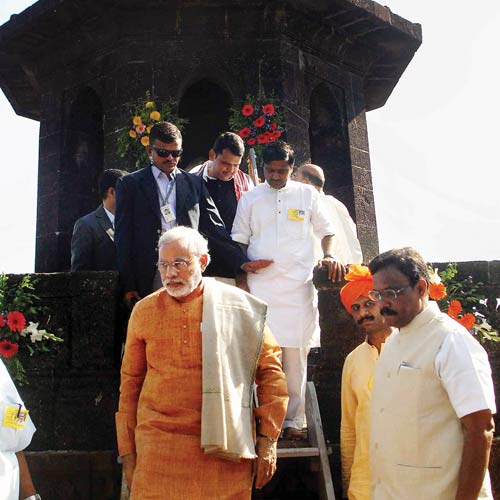 Praising warrior-king Chatrapati Shivaji Maharaj, BJP's prime ministerial nominee and Gujarat chief minister Narendra Modi took potshots at the Congress, albeit without naming the party, saying that post-Independence, India had continued with the British tradition of distorted history.
Modi was speaking at a rally on Sunday after paying his respects at Raigad fort, the erstwhile capital of the warrior-king. The function was organised by the Sangli-based Shivprathisthan, which is led by Sambhajirao Bhide Guruji, and had organised a rally to Raigad fort.
"It is the tragedy of the country... that despite so many years having elapsed since Independence, the true history of India has not been allowed to reach us. The British attempted to manipulate history as part of a conspiracy to perpetuate a mindset of slavery, after Independence, we have only aided it," said Modi.
"Chatrapati Shivaji Maharaj fought for the Independence of India, to free the country from slavery," said Modi, referring to his wars against the Mughals and the Adilshah. "This was not a fight for power... but an attempt to free Bharat Mata," said Modi.
To strike an emotional chord with the people at the rally, Modi recalled how one of the first books he had seen at a library in his village was one in Gujarati on Chatrapati Shivaji, written by Waman Mukadam, and pointed to how the exploits of the warrior-king were reflected in the popular culture in Gujarat. He noted how episodes in history like his looting Surat were distorted, when in reality it was Mughal emperor Aurangzeb's treasury which was sacked.
Modi pointed to how the name of Chatrapati Shivaji brought forth images of him sitting on a horse, sword in hand, ready for battle. He rued that the legacy of the warrior-king had been restricted to this in history. Modi questioned if Mahatma Gandhi could be evaluated only on the basis of his struggle against the British, which was just one of the aspects of his personality and added that similarly, Lord Rama and Krishna could not be restricted to just their battle against Ravana and Kansa respectively.
He said Shivaji had sowed the dreams for a better India and added that these dreams comprised of people not being distressed, the youth getting employment and farmers not committing suicide.
He noted how Chatrapati Shivaji Maharaj implemented ideas of good governance and human resource management and pointed to how he provided aid to farmers suffering from drought. Modi also pointed to how he built up a strong navy.