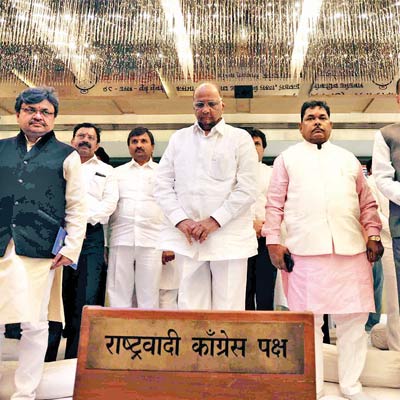 Union agriculture minister and NCP chief Sharad Pawar on Sunday lashed out at BJP's prime ministerial candidate Narendra Modi, saying he is not fit for the post of prime minister because of his "divisive nature" and "lack of basic historical knowledge".
While addressing the Congress-NCP party workers rally in Bhandup, Pawar charged that Modi does not care about all communities. "India is a diverse country where all castes and communities stay peacefully.
Modi has a divisive nature that can split our united country into many fractions on the basis of religion," he said. The NCP has nominated MP Sanjay Dina Patil in Mumbai North East Lok Sabha constituency for the second time.
"The court may have given Modi clean cheat in connection with the Godra riots case, but it was his moral responsibility to look after each and every family affected by the riot," said Pawar.
On February, 2002, former Congress MP Ehsan Jafri was among the 20 people who were burnt alive in the massacre at Gulberg Society in Ahmedabad.
"The place where this massacre took place was only 20km away from Gandhinagar where Modi's office was located. In spite of this, no help was extended from the CM's office," said Pawar.
Furthermore, Pawar claimed that Modi did not bother to visit riot-affected families. "It is not good if the person is to become the prime minister of India. He has to take care of people from all communities irrespective of their party, religion, caste and ideology," he said.
Pawar pointed out that Modi lacks elementary knowledge of Indian history. "He always makes historical mistakes in his hyped speeches," charged Pawar, adding "recently, at Wardha, Modi in one of his so called Chai Pe Charchas said that the Quit India movement led by Mahatma Gandhi had started from Wardha. Actually, the Quit India movement had started at August Kranti Maidan (Gowalia Tank) in Mumbai.
If a person does not know basic Indian history, will you cast your vote for him," asked Pawar.
Pawar said the coming election is very crucial and important in many aspects. "For the first time in history a political party has declared its PM candidate before the result of the Lok Sabha polls. It is an attack on our Parliament. In a parliamentary democracy, the candidate is being chosen by its elected member — MPs," said Pawar.
Pawar also said that during a drought in Maharashtra many Gujarat firms supplied animal fodder, bearing the cost of Rs22 crore. "Surprisingly, Modi asked the police department to register a police complaint against the firms that helped Maharashtrian farmers. This person does not show any mercy or leniency towards animals. How will he be kind to his countrymen," asked Pawar, appealing to the people to be careful while casting their vote.