At a time when a stir by government hospital doctors has hit patients hard, Santosh Andhale and Maitri Porecha visit four major public hospitals across the city to see for themselves the pitiable conditions in which those who treat us are forced to stay.
Nair hospital
Common toilets, leaky roofs
Over 500 doctors work at this civic hospital. The doctors say that security arrangements on the hostel premises are very poor. Every month, at least four doctors have their cell-phones or valuables stolen as thieves gain easy access to the hostels due to the horrid security conditions. Many of the resident doctors reside at the hostel at Girgaum, outside the hospital campus. A second-year resident doctor at this hospital, who did not wish to be identified, said that every room measuring about 250sq ft houses at least three resident doctors. "In most of these rooms, the roofs are leaking. The rooms are in a dilapidated condition. There is a common toilet and bathroom facilities... All this leads to untold chaos especially in the mornings."
Complaint: Poor state of rooms
"The quarters are in a pathetic state with bedbugs in rooms. Recently, a resident doctor's laptop was stolen from the room. We've lost a 25-year-old colleague, Sumedh Pazare, to dengue," said Dr Manish Kokane, president, MARD, at this hospital

Dean: Renovation work to begin soon
Hospital dean, Dr Rajesh Bharmal, said renovation will begin soon at the hostel. "We've already appointed two security guards on the hostel campus. Issues that are being faced by resident doctors will be resolved soon," said Dr Bharmal
525 resident doctors work and reside at the civic-run BYL Nair Hospital and Medical College at Mumbai Central
Sion hospital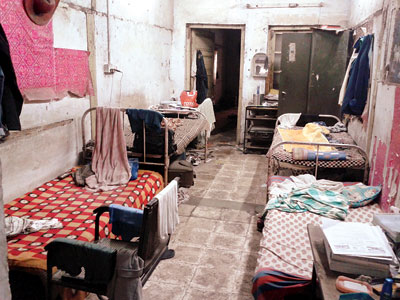 Mosquitoes for company
Of the 500 resident doctors who work at Lokmanya Tilak Municipal General Hospital at Sion, most live in terrible conditions. With inadequate rooms to accommodate doctors, up to six post-graduate doctors are huddled into one room during the first year of their stint. A third-year resident doctor said on condition of anonymity that many junior resident doctors are forced to sleep on the floor due to lack of proper cots. "Most of us are not provided decent mattresses, study tables or locker facility," said this student. Up to 80 resident doctors put up in age-old barracks that were once used to house military personnel. The barracks are infested with mosquitoes and, until November, up to 20 doctors had contracted dengue or malaria.
Complaint: No potable water
A student who contracted dengue last month said, "We're also vulnerable to TB and diarrhoea with no potable water and sanitation. Dr Zaki Shaikh, general secretary, MARD at the hospital said there aren't enough rooms for all doctors
Dean: Will provide clean water soon
"Hostel condition has improved this year. Up to 250 students are shifted to two new quarters. We're salvaging the situation in the barracks but it'll take a year. We'll provide clean drinking water soon," said Dr Avinash Supe, hospital dean
506 resident doctors work and reside at the civic-run Lokmanya Tilak Municipal General Hospital at Sion
JJ hospital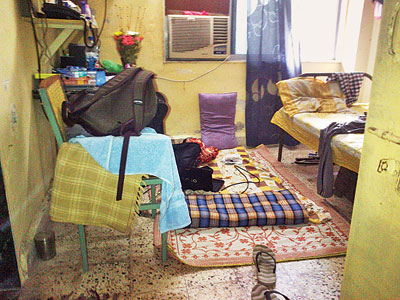 Elevators don't work here
Up to 407 resident doctors at the state-run JJ group of hospitals often face a tough physical test. Student doctors said that elevators in the hostel buildings are only partially functional. "Many a time, we have to leg it up to the seventh floor. Obviously, this leaves us totally exhausted," said a resident doctor who spoke to this newspaper strictly on the condition of anonymity. "Ever so often the elevators are kaput. It's possibly got to do with lack of maintenance," said this doctor. They said they are a bit luckier as compared to their counterparts in civic-run hospitals where resident doctors ace the problem of overcrowding in hostel rooms. "Out here, one or at the most two people are accommodated in a room," said the doctor.
Complaint: Cash, phones get stolen
Of late, solar water heaters have been working erratically. "We get hot water in an unpredictable fashion in the mornings. Though thefts of phones and cash have reduced, stray incidents do take place," said Dr Shriram Nawade, president, MARD
Dean: We're better than others
Hospital dean Dr TP Lahane said that problems are resolved through regular dialogue with students. "We take utmost care of resident doctors' health," said Dr Lahane. "Compared to other medical colleges, we're much better off."
407 resident doctors work and reside at the state government-run JJ hospital at Byculla
KEM hospital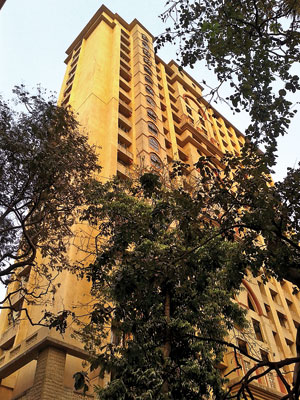 Interns too contract tuberculosis
At KEM hospital which has the largest strength of doctors among all public hospitals, two to three post graduate students, who are resident doctors, share a room. "Due to the rising number of patients and their constant exposure to doctors, resident doctors as well as interns who have worked for barely six months, rapidly contract infections like tuberculosis," said a student. The hospital has up to 600 resident doctors. Spread across three hostels, the students are scattered at different hostel buildings. Recently, a new 22-storey hostel has provided some respite to students. However, students said that not all the 600 residents have been accommodated in the tower, leading to pathetic living conditions.
Complaint: 2-3 students in a room
Two to three post-graduate students, who are resident doctors, reside in a room, Dr Ganesh Narwane , president, MARD said, "Security is a major concern as one of the hostels is outside the campus. Guards aren't posted meticulously ."
Dean: Rooms are spacious enough
Acting dean Dr R R Shinde said that if three are accommodated in one room, it's because the room is "spacious enough". Dr Shinde said they have embarked upon testing new students to tests to check vulnerability to contracting tuberculosis.
600 resident doctors work and reside at KEM hospital which is run by the municipal corporation.