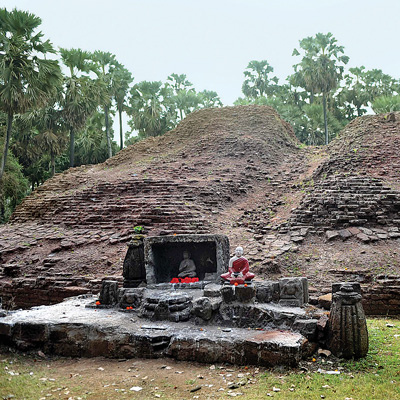 The state tourism department has decided to revive 2,600-year-old heritage by turning a Buddhist stupa in Nalasopara as the starting point of a spiritual circuit.
The journey will continue to Chaityabhoomi in Dadar, Pagoda in Gorai and other Buddhist destinations before ending at Dikshabhumi in Nagpur, department officials said.
"We chose the stupa in Nalasopara because it's from where Emperor Ashoka's son Mahendra and daughter Sanghamitra are believed to have left for Sri Lanka to spread the faith," said Jagdish Patil, MD, Maharashtra Tourism Department Corporation (MTDC).
Patil believes the initiative will help in promoting Buddhist spiritual tourism in the state.
According to historians and experts in Buddhist studies, Nalasopara, which was earlier known as Supara or Suparak, was a thriving trading centre in western India, with trade routes to China, Japan, Sri Lanka and many other countries.
Legend has it that the stupas came into place after a trader from the area, who was deeply inspired by Buddha's discourse, returned as a monk and set up a Buddha Vihar. It is believed that it was inaugurated by Buddha himself. The place was later turned into a stupa by Ashoka.
The Pagoda, also known as Global Vipassana Pagoda, in Gorai near Borivli (55km from Mumbai) is a meditation centre. The gold-painted Pagoda is attractively designed based on Burmese meditation centres. It is the single largest dome in the world built without supporting pillars.
Chaityabhoomi is another Buddhist landmark in the city. It was named so post the cremation of great Dalit leader Dr Babasaheb Ambedkar here in 1956.
A team of experts will be arriving from Quebec in Canada on June 23 to study Lonar lake and prepare a blueprint for development of tourism in the area. The team will stay for two weeks. Lonar lake, which is located in Maharashtra's Buldhana district, was created by the impact of a meteor strike. The crater's age is estimated to be over 52,000 years