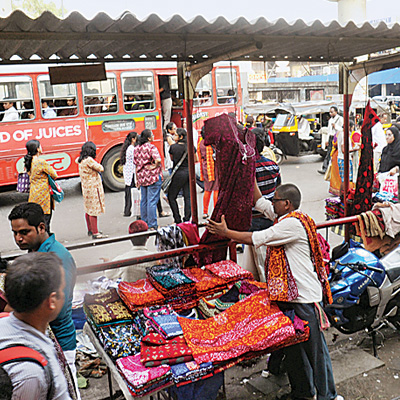 While the city often looks at hawkers as encroachers of public space, thanks to the BMC, hawking is all set to be a sophisticated and organised affair.
As per the 'Right to earn livelihood' policy of the central government, the number of hawkers in a city will be limited to 2.5 per cent of the total population. As per the census, the city's population is 1.25 crore, so it should accommodate 3.25 lakh hawkers. A preliminary survey carried out by the BMC last year pegged the number of hawkers at around 1.1 lakh, which many activists say is much lesser than the actual number. In effect, that means that Mumbai could witness a spurt in the number next year.
If the civic body's plan works out, hawkers will no longer operate haphazardly. Soon, all of them will have licenses, designated space and time to carry out their business. The BMC has deployed 241 teams which are currently distributing registration forms among them. The teams, comprising an inspector from the civic body's license department, representatives from NGOs, the town vending committee, local residents' associations, trade unions as well as police officials, are spread across all 24 wards of the city.
"Hawkers have to submit the forms at a venue following which their details will be fed into the system. The process will leave no scope for any confusion between a legal and an illegal hawker," said a BMC official, adding that they hope to complete the process by August.
The final step will be to provide every registered hawker with a GPRS-enabled identity card, for which tenders have already been invited. "Every hawker will be allowed to carry out business at a designated place and time. If the hawker tries to change location, the ID card will help us track him/her," the official said.
The spurt in the number of hawkers in the city will also be gradual, said the official. Moreover, hawkers' groups will not let new, unregistered hawkers to join.