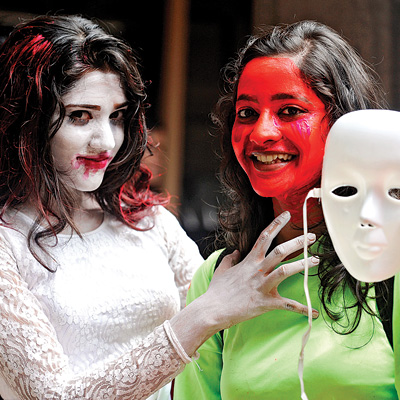 The final day of St Xavier's College's annual festival Malhar ended with a great flourish, with students rushing from the book exhibition, where books were being sold for as low as Rs10, to the various events held across the campus.
One of the biggest crowd-pullers proved to be Amped Up, the English band event, and Illuminati, their UV light dance show.
Other interesting events were Comic Katha, a comic book design event where participants created comics on the theme 'Myth and Magic' and Just-A-Minute, Tridhara and Contemporary Dance, among others. In contrast, the usually engaging 'Mr and Miss Malhar' was a letdown.
Actor-director Rajat Kapoor was present for a screening of his film "Aankhon Dekhi" and later held an interactive discussion with the audience. Other well-known personalities spotted on campus were Simpreet Singh and Gerson D'cunha.