The beauty of nature fascinates artist Chandni Mathur who captures it on the canvas by expertly wielding her brush.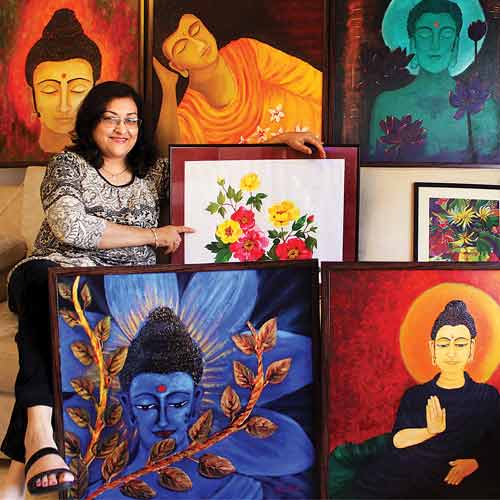 Chandni Mathur, a Vashi-based artist, has had no formal training in the use of paints and brushes or the techniques that can elevate the look of a painting.
Yet, she excels in what she does and that is because she puts her heart at it. "It is something I wholly enjoy and can immerse myself into. Love for any activity is in itself a good driving force," says Mathur confidently.
Professionally a textile designer, Mathur took up the activity of making paintings more seriously in 2010. Floral and nature-based paintings is what she started out with and had quite a number of paintings ready before her first exhibition in 2011, at Ravindra Natya Mandir.
"I displayed around 28 paintings that included realistic floral, Feng Shui art. I got an overwhelming response, with most of my paintings getting sold. It was a milestone for me as the encouragement cemented my beliefs that I can excel more," says the 54-year-old.
Post that Mathur has also exhibited her paintings at International Creative Art Centre (ICAC) and at Nehru Centre in Worli. For the first time, she also exhibited her paintings at the recently concluded India Art Festival at Nehru Centre.
"My theme was spirituality and I had seven paintings on display depicting Lord Buddha in different forms bringing out the peace and serenity he is known for," says Mathur, adding, "Apart from being a huge platform to show my paintings to a large audience, it was a learning experience. I was able to know my strengths and weaknesses."
Referring to her style of painting, Mathur says it is mostly experimental. "Whenever I am struck with an idea, I put it on the canvas. The basic idea is mine, however, I do some research to understand the form and character of what I am going to make," she explains. For instance, whenever she makes floral paintings she does a basic research studying their colour patterns, shapes, among others.
Although she has used both water and oil colours, she prefers the latter as it is much more easier to work with. "I incorporate ideas that I get while I am painting. So I tend to think, taking time to decide how best to give them shape. This is more convenient with oil colours," she says.
One of her favourite painting is of a Cactus flower as it gives her the message that among so many thorns, there is something blooming.
The first painting she sold was of Lord Ganesha and it was a very lucky moment for her as since then her brushes have always been busy. She says she makes and sells the painting with the idea that it should be lucky and bring good vibes and happiness into the customer's home.
However, for Mathur, it has been a challenge juggling her household chores and her passion over the years. While the latter requires uninterrupted indulgence for quite a few hours, the former comes in the way. "I have had to do some serious juggling, but it is much better now as my kids have grown up and manage on their own. My husband and my children have been the major source of inspiration for me," she says proudly.
Her main focus now is to expand her spectrum and try new styles. "Landscape is something I will surely try my hand at. I would also like to invest more hours for this and make bigger paintings," she says. And like any artist, she aims to become more proficient in her art, make a career out of her hobby and be associated with well-known art galleries.
Expanding spectrum
Professionally a textile designer, Chandni Mathur, 54, took up the activity of making paintings more seriously in 2010. Floral and nature-based paintings is what she started out with and had quite a number of paintings ready before her first exhibition in 2011, at Ravindra Natya Mandir
Post that Mathur has also exhibited her paintings at International Creative Art Centre (ICAC) and at Nehru Centre in Worli. For the first time, she also exhibited her paintings at the recently concluded India Art Festival at Nehru Centre
Although she has used both water and oil colours, she prefers the latter as it is much more easier to work with