For over a decade, Akansha Redij has been delivering letters. Now, she's the Best Postwoman of the year.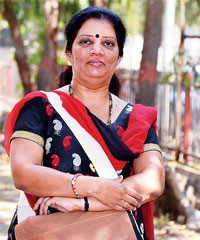 Children in Vashi and around know the concept of 'postman' only from books. In real life though, the the tiny ones are used to seeing a 'postwoman' in their locality.
For more than a decade, Akansha Redij, 42, has been a familiar sight in Navi Mumbai, lugging along bags of courier. "I carry four bags full of letters, delivering them door-to-door in around 70 housing societies," says Redij, wiping the sweat of her brow with a kerchief. "I've been doing this for 11 years now."
The task is arduous but that's "part of my job" is how Redij sums it up.
She does not see her job as a routine delivery task to be performed in a deadpan manner.
"The letters in my bag are harbingers of joy or sorrow. What I deliver to people is news about people or things that matter most to them," she says, adding that her job gives her a good opportunity to bond with the people to whom she delivers documents.
"There have been times when I've handed over a letter to a child who prances about joyfully and rushes it to his parents inside the house. It's the glimpse of such happiness that I yearn for and look forward to," says Redij. And in the same vein, she admits that it'a not a cakewalk to balance work and home.
The Nalasopara resident, mother to a five-year-old boy, commutes to Vashi. For this, the day starts at 4am. She cooks for her son and husband Ashok, a corporator. This is followed by the usual household chores as Redij has not employed a maid. On her way to work she drops her son at a day-care centre, reaching her office in Sector 18, Vashi at 8am.
"My superiors often cite my example to my other colleagues," she says, going on to add how much she loves her job. In fact, the postwoman's exemplary performance has earned her the 'Best postwoman' award of the year.
In the age of email and cellphones, Redij admits that the quantum of work has reduced to a great extent.
"On the work front, it gets tough at times to climb floors, especially during the summers," says Redij. "Of course, people often offer me water or a cold drink."
Those little perks of the job apart, Redij continues to trudge along from house to house, delivering a myriad of emotions...

@littleyadav