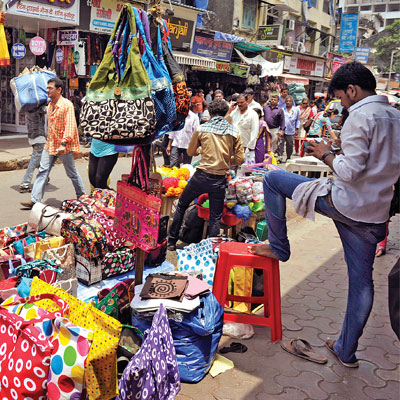 As per 'Right to earn livelihood' policy of the central government, the number of hawker in the city will have to be restricted to 2.5 per cent of the total population. As per the census, the city's population is 1.25 crore, so the city should accommodate 3.25 lakh hawkers.
Which in effect means, Mumbai can expect to see another one lakh hawkers on its streets from early next year in addition to the present 1.5 to 2 lakh.
No doubt, the civic administration will find it extremely difficult to accommodate them. The MCGM isn't sure how to regulate, what it fears, will be uncontrolled hawker activity, even while protecting public space from further encroachments. It expects to carry this out through a town vending committee appointed by it.
However, such problems don't worry hawkers, who continue to capture more and more areas, inconveniencing tax payers, leaving them with no space to walk on footpaths and no space to park their vehicles. Some areas are also unsafe, as hawkers in a few places are known anti-social elements.
The railway stations and residential areas in places like CST, Colaba, Mohammed Ali Road, Grant Road, Parel, Dadar, Sion, Matunga, Kurla, Vikhroli, Ghatkopar, Mulund, Borivli, Kandivli, Malad, Goregaon, Andheri, Vile Parle, Santacruz, Khar and Bandra are highly congested.
This could be one reason why several activist have emerged from these areas after having realised that tax payers are being denied their rights and illegal activities are being allowed by the authorities for a 'price'.
Hawkers union and human right activist, however, bat for the implementation of the new policy even as civic activists frown at the very idea of further congesting the limited space on roads and walk-ways.
As per the new policy, the civic body is expected to regulate hawkers everywhere--hospitals, educational institutes, railway station, bus stations, places of worship, footpaths and anywhere in the city where hawkers feel it's a 'natural market'. Natural market are places where residents feel it easy to shop and hawkers to do business.
"There can't be any agreeable solution here. Citizens will be robbed off their walking space. As such the city has limited open plots and hardly any walking space. You can't expect people to bear the additional burden. BMC should first rehabilitate the existing hawkers then think of allowing newer ones," said Aftab Siddique, who has been fighting illegal hawkers on Linking Road Khar.
Civic body has to find a pragmatic solution to the problem, striking a right balance between citizens' expectations and hawkers' demands.
Experts optimistic
Taking into account the ambiguity of the situation, BMC has appointed a two-member committee to study the existing situation and come up with pilot projects.
The pilot projects are likely to be tried out in Dadar and Vile Parle (one station area and the other a residential area). The committee will start its work shortly after a meeting with BMC officials next week.
The committee members are Sharit Bhowmik, professor, chairperson, Centre for Labour Studies, School of Management and Labour Studies, and Rohit Shinkre, principal and professor at Rachna Sansad Academy for Architecture and a Practicing Architect.
Rohit Shinkre will prepare various models and study how and where hawkers can be accommodated, and Sharit Bhowmik will study the ways to regulate them and bring in a positive approach to hawkers' existence.
They feel that since the policy is being implemented nationally, instead of complaining, the need of the hour is to bring all the stake holders together and come up with a workable solution.
"Citizens and politicians may want to think that hawkers are a menace and they have to go, but that's not going to happen because it's their livelihood. All the existing hawkers, whether legal or illegal, will have to be included in the regulation exercise. So the new solution will take into account all aspects," said Sharit Bhowmik, who added that the committee would come up with lots of options which could be implemented after a thorough debate.
"Presently, more than two-thirds of the footpaths and at some places, even the entire footpath, have been occupied by hawkers. We want this to come down to one-third. For this we may need innovative solutions, which will be created," said Bhowmik.
Shinkre said they would have to work on various modules after studying different patterns—new locations, whether to spread them out or shift them to other locations, different kinds of goods hawkers deal with, space occupied by them, seasonal business patterns, festival business, etc.
"The solution we are looking at is something that's practical. The process will include what kind of solution can be provided and what the law requires. There may be a point where ideal optimal solution may not be ideal at all. We are not in Europe. We are in Mumbai, a city with limited space, where the price of every square inch of land is counted," said Shinkre explaining the mandate given to the committee by the BMC.