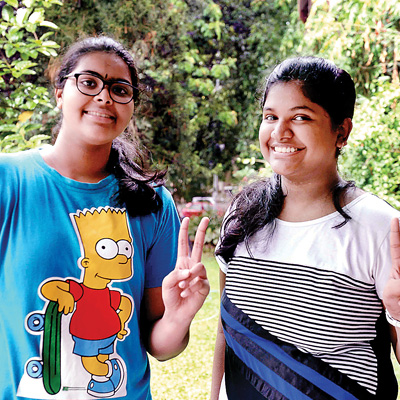 Girls across the state have done it again! This year too they have outshone boys in SSC exams.
The SSC results that were declared on Tuesday have brought Navi Mumbai in the limelight as students have done exceptionally well. Two students have scored above 97%.
Suradha Iyer and Anuja Patil of Fr Agnel Multipurpose School (English medium), Vashi, scored 486 marks (97.2%) out of 500, which could well be the highest in entire Mumbai division. Fr Agnel Multipurpose School, Vashi, has achieved 100% result in the examination.
Iyer who loves to read books gave her success credit to school, family and friends. "I got a lot support from schools. All the teachers were very supportive and they were always available to help all the students," Iyer said.
Anuja Patil who wants to become an engineer overcame the fear of board examination with the help of school teachers and scored 97.2%. "I focused on weak areas and difficult parts of the subjects and extended my study time to 8 hours when the exams approached," Patil said.
Mumbai, on the other hand, whose pass percentage dipped slightly from last year's, has secured the fifth position in state with 88.84%.
St Xavier's, Borivli, student Jinal Kapadia, who scored 96.4%, is among the city toppers. She said: "I preferred studying in the early hours of the morning for around seven hours. It was a challenge for me to top the school as I was also president of the school council. I wish to pursue my career in bio-tech engineering. Hard work always pays and my result proves that." Kapadia scored the highest in science (99) and maths (98).
Another city topper is Hardil Batra, a student of Hansraj Morarji Public School in Andheri. Batra, who scored 95%, said: "Initially, I used to study for only three hours, but, later, when exams started nearing, I increased the number of hours to seven. I wish to go into commerce stream as that will help me become a businessman." Batra scored 98 in maths and 98 in science.
One more topper, this one from Nagpur, is Pragati Hinge, who scored 98.40%. "I am happy with my result and plan to go into commerce in junior college. It will help me pursue a career in chartered accountancy. Studying at night for about three hours is a secret to my success. I always preferred studying at night as it's the quietest at that time," she said.