Permission for new trains was sought six months ago.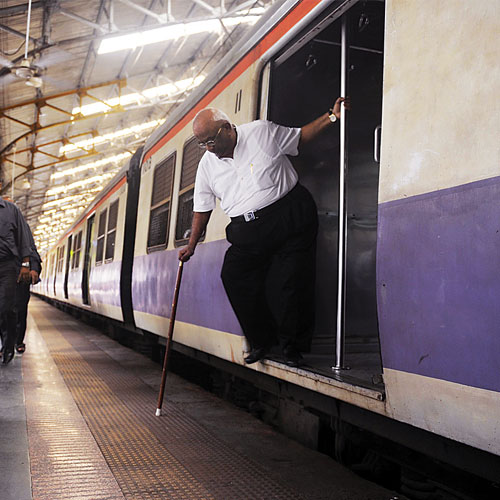 The delay by the railway ministry to grant permission for raising the height of platforms at suburban stations, to adjust to the new Bombardier rakes being introduced soon, has put the Western Railway in a quandary.
Work is already in progress at some stations to increase the height of platforms to between 760mm and 840mm, which is the maximum allowed under existing rules. But the new rakes will leave a wide gap between the floor of the coach and the platform and this would require the height of the platforms to be raised to 920mm.
The WR had written to the ministry nearly six months ago about this, but there it has not received any response so far.
This has been a recurrent issue on the suburban network. The WR recently completed work to raise the height of six platforms at Dadar, Malad, Kandivli, Borivli, Bhayander and Virar. Work is in progress to raise nine platforms at Charni Road, Grant Road, Elphinstone Road, Lower Parel, Vile Parle and Khar.
Contracts have been awarded for work on 20 more platforms at Marine Lines, Charni Road, Mumbai Central, Lower Parel, Dadar, Mahim, Bandra, Khar, Andheri, Jogeshwari, Bhayander and Kandivli.
But if and when the ministry gives the go-ahead to increase the height of the platforms to 920mm, the work at these stations would have to be taken up all over again.
"The fact remains that the new Bombardier trains are very high and beyond the existing norms. So it is only prudent, for the sake of the safety of passengers, that as and when the new standard is accepted, we go in for resurfacing of the platforms, even those that have been recently done," said a senior railway official.
What this will mean is that more money will have to be spent and commuters will be put to inconvenience at the platforms all over again.
Shailendra Kumar, divisional railway manager, said, "We are vigorously pursuing the case with the railway board (for the increase in height of platforms to 920mm). We believe it should happen soon. The process involves changing the railway's standard dimension rules, where lots of parameters have to be looked into."

Height is the problem
The existing Siemens rakes have a floor height of about 1,220mm (from top of the tracks), against a height of 1,187mm to 1,197mm set under railway rules. The new Bombardier rakes that are in the Virar car shed have a floor height of 1,230mm.
This would leave a dangerous gap of 470mm at platforms that have a height of 760mm.
WR has undertaken work to raise the height of platforms up to the permissible 840mm, but officials now realise that is not enough.