Paper cutting is a serious art for Borivali resident Pooja Ajmera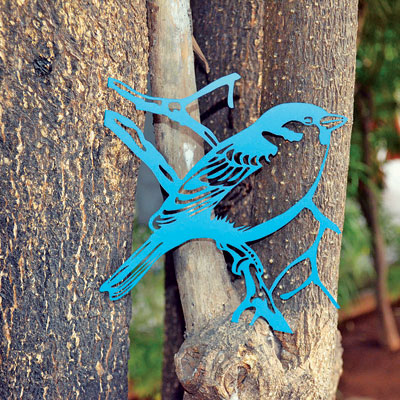 Pooja Ajmera had recently got married. Her sister-in-law's birthday was coming up and Ajmera wanted to give her a gift that would appeal to her artistic sensibilities. Obviously, this required research so she started looking up interesting art projects. That is when Ajmera came across an article that would much later define her identity. But she didn't know it at the time. "I had just read an article about stencilling (cutting paper) and was quite fascinated. I was sitting on my bed playing around with some paper. The bedspread had some flowers on it. I stencilled a flower on the paper and then set about cutting it. It looked quite nice," recounts Ajmera. The 'nice' paper cut flower was duly handed over to her sister-in-law who loved it so much that it is now a part of her home décor.
Ajmera liked the paper cut she had made so she started doing some more research. She started creating more stencilled work. "I thought that I will keep creating more artwork till I am bored of it," she says. It's been two and a half years and she's nowhere near boredom.
In January last year, Ajmera started a website 'Teekhii Chhurii' where she makes personalised paper cuts (and frames them) for interested customers. She has made paper cuts of the legendary cricketer Sachin Tendulkar; an adaptation of the Beatles' Abbey Road album cover and her own interpretation of the character Joker from the Batman movies among others. Recently, she introduced a miniature series where she has created images that are barely one to two cms long.
A large part of her clientele calls on her for personalised artwork. She also does storyboards in which she uses information about the people to create a detailed framed artwork of their life. What's more, she conducts workshops too.
"It was during my research that I discovered that there is an Indian art form called sanjhi that involves the creation of exquisite motifs and figurines using stencilling. It's a dying art form," she says. But Ajmera's work, unlike the traditional sanjhi that is more spiritual and leans towards religion, is contemporary.
Although Ajmera, 29, has been part of exhibitions, the most recent being Bombay Local at Juhu, she uses them as a platform to talk about the art. "I don't go there to sell but to create awareness. People don't realise that this is an art form. They don't know the effort that goes into it," she says.
Ajmera usually carries around an unframed canvas with her so people can realise the intricacy of her work. The reaction she gets from everyone is the same, "Their jaws drop."
Pooja Ajmera's personalised paper cuts start at Rs. 4,000. Visit her facebook page for more details.